Wes Craven talks Scream 4 Script Issues and New Trilogy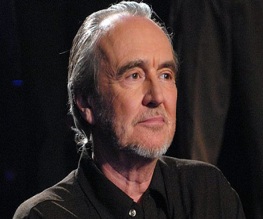 In an interview with Total Film, director Wes Craven, "revealed" what went down on the set of Scream 4, not quite setting the record straight about his infamous script control quote of last year, and characteristically whetting our sanguineous appetites for more screen-screams:
During production, the original dream-weaver of franchised nightmares tweeted that he was "no longer in control of the script" as Scream 3 writer Ehren Kruger came in to rework Kevin Williamson's draft. "I was just stating the fact," Craven told Total Film. "In some ways it's a Wes Craven film, and in a way it's not entirely, because it's not a script I have control of. It's ultimately controlled by what the studio wants in the script. My job is much more bringing whatever experience and expertise and creativity I can…Look, there was a bumpy period when things shifted over from Kevin to Ehren. I signed up to do a script by Kevin and unfortunately that didn't go all the way through the shooting. But it certainly is Kevin's script and concept and ideas and themes."
As far as spawning a new trilogy, Craven seems open to 'masterminding' more meta-mayhem: "When I initially met with Kevin, he sketched out what the next two would be, and I found it really fascinating," he concludes. "A lot depends on whether they come up with scripts to flesh out. But certainly, I'm up for it, if the script is there. It's a fascinating thing to do two trilogies in a career."
Fascinating, indeed. Just not sure that it will actually count as Craven's second trilogy when his involvement looks to be increasingly nominal.
About The Author