Who's to Play Bilbo?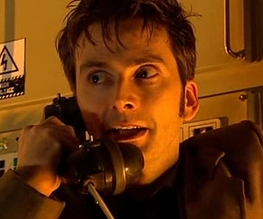 Yup, that and a great many other groan-worthy headlines are bound to be whizzing round Grub Street and various geek-friendly web sites, as the grist of various coincidences feeds the rumour mill surrounding Guillermo del Toro's two-part The Hobbit. This time, much-missed Time Lord David Tennant's up for the coveted role of head Hobbit Bilbo, and it seems there's much more backing to the rumour than others that have been floating around previously.
Firstly, Simon Pegg tweeted that Tennant had to drop out of John Landis' upcoming Burke and Hare, a black comedy about the notorious 19th century graverobbers-turned-killers. Featuring comic luminaries such as John Cleese, Bill Bailey and Ronnie Corbett, it seems like a weird decision – until Pegg (who's to play Burke) mentions in his Tweet "glorious serendipity" and "a legend of Middle-Earth"… though he's actually referring to the legendary Andy Serkis (who's stepping in to play Hare). However, the fans were flamed (geddit?) when the Tweet was removed shortly after.
Who knows what's going on here, but with Tennant filming Rex Is Not Your Lawyer, a fairly high-profile TV pilot stateside, and having only just left Who, backing out of stuff at the last minute sure is a crazy move. If we were betting men, though…
What do you think? Crazy rumours, or is there something more hairy afoot? Leave us your thoughts below…
About The Author