Will Philip Seymour Hoffman appear in Catching Fire?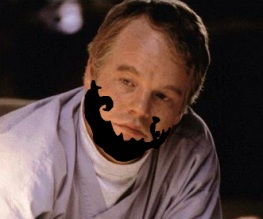 Following the swiftly quashed rumours that Robert Pattinson was to take a juicy role in Hunger Games sequel Catching Fire, another high-profile name has been tentatively attached to the project – Celluloid Heroes' bosom buddy Philip Seymour Hoffman.
Hoffman has apparently been offered the role of Plutarch Heavensbee, the 'Gamesmaker' who organises the 75th Hunger Games after his extravagantly-bearded predecessor Seneca Crane (Wes Bentley) was forced to commit suicide by berries. Hoffman has shunned franchise movies since 2006's Mission: Impossible 3 so his involvement doesn't seem overly likely, but perhaps this will be the role to tempt him…
Interestingly, Plutarch (who Total Film are calling 'Pluto', which either means a) the Roman-inspired names of Capitol residents are being toned down or b) Total Film are idiots) has an even more significant role in Mockingjay, the final part of the Hunger Games trilogy. SPOILER ALERT, obviously, but after being revealed as one of the leaders of the rebellion he ends up in District 13 with Katniss and co, popping up in various adventures and, unlike many characters (including Finnick Odair aka Not Robert Pattinson), actually making it to the end of the series alive. /SPOILER ALERT
Do you think PSH would make a good Plutarch? Let us know below!
About The Author