Will Smith too pricey for Independence Day 2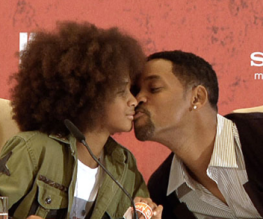 Will Smith will not make an appearance in Independence Day 2, according to Roland Emmerich, because he's too expensive. Last week Independence Day 2 was given the release date of July 3rd 2015 for America, placing it in one of the most crowded summers of all time, alongside Star Wars: Episode VII, The Avengers 2, Pirates Of The Caribbean 5, Finding Dory, Man Of Steel 2 (probably) and Jurassic World.
Roland Emmerich has been promoting his latest incredibly-stupid-yet-undeniably-fun-looking White House Down, and has inevitably been grilled on the Independence Day 2 topic. Here's what he said;
"Will Smith cannot come back because he's too expensive, but he'd also be too much of a marquee name. We have maybe half the people that you know from the first film, and the other half people who are new."
As long as Robert Loggia returns, all will be well. Wait, did he die in Independence Day? We have no idea. Whatever, GIVE US ROBERT LOGGIA.
Big Willy (as no one calls Will Smith because, honestly, who believes that anymore?) wasn't a big draw way back in 1996, but thanks to Independence Day and Men In Black (but not Wild Wild West), Will Smith became a hot commodity.
It must be said that Will Smith doesn't look as good as box-office bait as he once did: After Earth has sputtered and died (you guys are smart after all), making only $171 million in international gross so far. Maybe Roland Emmerich could hire the budget version of Will Smith instead: Jaden Smith (half the size, half the talent, half the money). We could certainly see little cardboard Jayden Smith running around, crying and blubbering and getting a tentacle throat massage from one of those stupid aliens. That would be worth the price of admission twice over.
Good luck proving that Independence Day 2 isn't 17 years too late, Roland Emmerich!
There's nothing we can do to stop them. Independence Day 2 is happening, and now there's no Will Smith. God help us.
About The Author