World War Z takes over Glasgow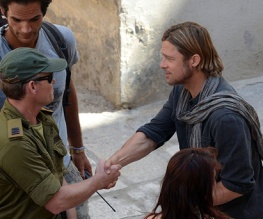 The Weedge is going to be even less hospitable than usual for the next few weeks; it's being turned into a postapocalyptic Philadelphia for Brad Pitt's new dystopian zombie thriller World War Z*.
False shop fronts and American cars are being used to transform parts of the city centre in a move estimated to bring more than £2m into Glasgow (most of which will be Angelina Jolie's spend in Toys'R'Us when she comes on a set visit).
Pitt, Bryan Cranston and the rest of the cast have been filming in Cornwall for the past few weeks and were previously in Malta, but now 1200 Glaswegian locals will be joining them for the epic city shoot. Zombie extra auditions were held earlier this month.
Are you going to be a World War Z extra? Or does this sound like a good time to check out the Fringe? Let us know below!
*If any Glaswegians read that sentence, please don't glass me.
About The Author