Zack Snyder distances himself from Intergalactic War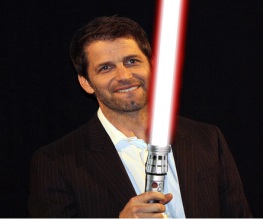 Having been a busy boy recently, with the summer seeing the release of both his awaited Christopher Nolan-produced take on the Superman story, Man of Steel and 300 prequel 300: Rise of an Empire / 300: Battle of Artemisia, Zack Snyder's representative yesterday moved to quash rumours that he is involved in a new Star Wars project set outside the 'New Trilogy'.
While this may come as a disappointment to the millions of fans of the sci-fi series based in a galaxy far-far away, they should not be too disheartened, not yet anyway. While the rep is quoted as saying "he is super flattered" – as opposed to being merely a tad – "because he is a huge fan, Zack is not involved in any way with Star Wars" – it appears that the wonderfully named Claude Broddesser-Akner over at Vulture.com who originally reported the story, is unwilling to accept that this is the final word on the matter. Claude cites the "possible political ramifications" of his report, perhaps a little grandly, due to poor Zack's bomb with his previous Warner Bros film Sucker Punch. This, it seems, is rendering execs at said studio nervous about him being associated with a franchise at another studio when they may need him to follow up forthwith on Man of Steel having already sunk so much cash and care into that eagerly anticipated film…
While this may seem a little convoluted and strike some as an attempt to return to a cherished Star Wars fan's dream when the alarm has already loudly woken him up, stranger things have happened. The rep did not say that Snyder would be involved with the Star Wars franchise, but then why would he? Nevertheless, for now, the situation is that if you want to believe that Snyder is set for Star Wars, you can. Realistically though, it's clear that he is not. Yet.
Is some grand political machination going on in Hollywood to prevent movie-goers knowing the truth about this cherished franchise? Or are frantic fans seizing any hint of an intergalactic comeback as truth with not even a speck of salt in their hands? LET US KNOW
About The Author