Aayirathil Oruvan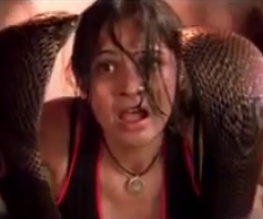 In the world of Tamil cinema, director K. Selvaraghavan is James Cameron and Aayirathil Oruvan (in English, 'One Man in One Thousand') is his Avatar. This action-packed fantastical adventure, made on a Cameron-esque overblown budget and awarded a controversial 'A' certification (similar to the British '18') in its home nation of India, generated a similar buzz in the Indian press prior to its release. There were zombies, there were explodey war scenes – both things we admittedly get quite a lot of in the Western film world, but in the somewhat more quiet arena of Tamil movies, AO was touted as quite the revolutionary work.
The Lost World
The film begins in 1279, when the king of the Chola civilisation, facing an invasion sends his people to a secluded location to avoid the loss of their way of life. Flash forward to modern-day India, where archaeologist Dr Lavanya's (Andrea Jeremiah) father has disappeared without a trace on his mission to uncover the location of the Chola people. Lavanya embarks on a mission of her own accompanied by fellow archaeologist Anitha Pandian (Reemma Sen), military officer Ravi (Azhagamprumal) and coolie labourer Muthu (Karthi Sivakumar). What results is a bizarre aventure through deserts, firestorms, snake attacks and quagmires until the trio finally reach the doomed Chola city.
Shocking and Surreal
So did Selvaraghavan's epic measure up? Well, before we give you a definitive answer on that, we should warn you that: a) a handful of Bollywood films is the only previous experience we can boast of the Indian movie industry and b) we're quite wary of the flash-bang Avatar-esque blockbuster genre at the best of times. That said, AO seemed to hold its own quite well against most recent Hollywood epics – lush scenery, large-scale battle scenes and the magic of a hidden world were all rendered beautifully and believably on screen. The constant crazy goings-on in the plot are a little exhausting, but that's part and parcel in any epic adventure film, we suppose. And acting wise, credit must go to the scene-stealing Sivakumar, whose amusing asides and crazy facial mannerisms will have you laughing in the midst of all the hullabaloo.
We give Selvaraghavan kudos for challenging the limitations of his genre and capabilities in this large-scale film. It's visually arresting and a triumph for the Tamil film industry in terms of effects, but much like our own epics, a little lacking in any real soul.
About The Author