All About Steve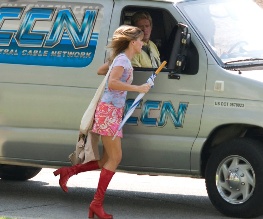 Categorising All About Steve as a 'comedy' feels like some kind of sarcastic joke. Frankly, it's anything but, and possibly needs its own category – 'uncomedy'. Sandra Bullock stars as Mary Horowitz –  a socially inept crossword compiler who's staying with her parents whilst her apartment is fumigated. Her parents take it upon themselves to set her up on a date with Steve (Bradley Cooper), a cameraman for a news channel whose job it is to make Hartman Hughes (Thomas Haden Church) look good. Mary is immediately smitten with Steve, and he's naturally worried (if not terrified) of the obsessive oddball and her infatuation with him.
[FLOWPLAYER=http://uk.clip-1.filmtrailer.com/2171_4940_a_3.flv,275,180]
Sandra Bullock's success in 2009 doesn't look like it will be matched in 2010. With her inspirational role as the crusading mother in real-life sporting drama The Blind Side (released over here on March 12th) she became the highest paid actress in history (grossing over $200 million at the US Box Office) and probably an Oscar nomination (and perhaps win). Along with this,  last year's rom-com The Proposal saw Bullock playing a hysterical book editor threatened with deportation alongside Ryan Reynolds became a box office smash. In comparison to The Proposal, Phil Traill's 'quirky romantic comedy' shows that Bullock misplaced her trust in a terrible script – it's a rom-non-com.
The screenplay was written by Kim Barker and although potentially a funny film could have been made, the energy is lacking and a number of scenes fall horribly flat. Despite Mary's quirks and obsessive behaviour, Bullock finds a sweetness and vulnerability to the character. Even so the most credible part of Bullock's role is her slapstick humour and physical comedy which makes a small selection of scenes a little less dull, but only a little.
What do you reckon? All about Steve, or all about pretty much nuttin'? Leave us your thoughts below!
About The Author