Cedar Rapids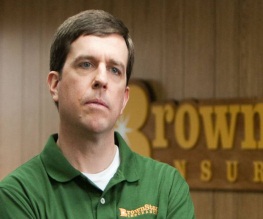 Could you imagine a less interesting subject than a film set in the world of insurance? A film about a garbage collector? Even a film about a garbage collector could be interesting – what if the person in question discovers a bag of diamonds? (Memo to self, keep idea for screenplay.) A film about an insurance agent at a insurance convention is low on the list of exciting things to watch. That's part of the charm of Cedar Rapids but also an issue as no matter how strange or raunchy the situations that director Miguel Arteta and screenwriter Phil Johnson come up with the film comes across as a just above average experience.
[FLOWPLAYER=http://uk.image-1.filmtrailer.com/70809.jpg|http://uk.clip-1.filmtrailer.com/7217_22284_a_5.flv,275,180]
Ed Helms is Tim Lippe (pronounced Lippy), an overgrown man-child who despite entering adolescence has not embraced it. He's the perfect employee, trustworthy, understated and dependable but has no idea of how the world works. He spends his time with his old (and I mean ye olde) 7th grade teacher Ms Vanderhei (Sigourney Weaver) , a relationship illustrative of his arrested development and his lack of social skills. When the top agent at his insurance firm dies (with a belt around his neck and his trousers down) he's sent to the Annual Insurance Convention in Cedar Rapids to take his place and presented with the opportunity of kick-starting his life.
The problem with Cedar Rapids is not that it's unfunny; it's that it's not funny enough. While the presence of Ed Helms may have you thinking about The Hangover or The US Office it functions as a placid, sober version of the former and less humorous version of the latter. The humour is occasionally raunchy but the not all the jokes in the film are memorable with a few making you smirk but never laugh out loud. It's hard to find any massive bones of contention in the film as its likable enough with a decent story and tone and you sense that the film makes the most of the material at hand. There is one incisive moment where Lippe describes insurance agents as "superheroes" who fight when no else will, it's a touching if idealistic moment that gives the film a heart but when it gets down to its bread and butter it doesn't bring the funny in a consistent manner. The one character who does bring it, is John C. Reilly's Dean Ziegler.
Ziegler rolls into town, an agent we're asked to believe could be a bit unethical (a façade not dispelled by his motor mouth) and is coming off a 17 year-marriage. However Reilly makes the character sympathetic and likeable and he nails the funnier moments. Whether he's in a pool masturbating or talking about "chocolate-vanilla love sandwiches" Reilly's juvenile presence gives the film a boost when the dullness of working in insurance threatens to overwhelm. The rest of the cast convincingly convey characters that have only half-lived whether its Anne Heche (who I think we all can say has recovered from her "Jesus" moment, although she may be reliving it in the picture below), Isiah Whitlock Jr. as The Wire loving Ronald Wilkes or even Helms himself who's on his way up from 'that guy' status to someone with some comedic heft, they're all genuinely lovable characters.
So while Cedar Rapids won't sweep of your feet or have you howling with laughter it's a sweet enough comedy that entertains for the duration of its 87 minute run-time. It doesn't outstay its welcome and it hits all the spots for a conventional comedy, just don't go in thinking The Hangover.
About The Author