Friends With Benefits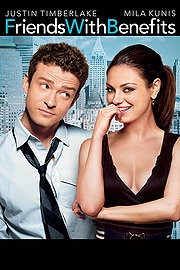 An art director for a small blog in Los Angeles, Commitment Issues (Justin Timberlake as Dylan) is flown out to New York to interview for a similar role at GQ magazine. Met at the airport by head-hunter Hollywood Romantic (Mila Kunis as Jamie), Dylan manages to impress the magazine enough to score the job. Still hesitant about uprooting his life, Jamie takes Dylan on a tour of the city in order to try and win him over. Some time after signing the contract, Dylan and Jamie are watching a romantic comedy and denouncing the importance of commitment in relationships. Deciding that they just want sex, they strike up a deal stipulating that neither will become too involved, and quickly hit the sack. So, can they stick to their cutesy, Bible app-sworn pact? What do you think.
[FLOWPLAYER=http://www.thefilmpilgrim.com/wp-content/uploads/2010/11/Friends-With-Benefits-Trailer.jpg|http://uk.image-1.filmtrailer.com/75120.jpg|http://uk.clip-1.filmtrailer.com/7460_23164_a_4.flv,275,180]
Sound familiar? Of course it does – I've just described the plot of any number of recent anti-romantic sex-comedies determined to stick it to convention and substitute carrots for flowers, period mixes for chocolate and casual sex for the usual prat-falls, pop songs and hasslesome first dates. Love and other Drugs did it, No Strings Attached did it, and now Friends With Benefits is doing it again – preferably on the couch where there are less overtly romantic overtones.
As such, I was very much prepared to dislike Friends With Benefits; yet another painfully quirky attempt at originality that nevertheless fails to avoid the usual pitfalls and genre conventions, walling itself into a Happily Ever After which never quite seems to fit with its original mission statement. And for a short while, I did. To begin with, Friends With Benefts is a bit of a mess, slurring its introductions as each of our nomantic leads find themselves suddenly single, duly falling into one another's lives (and orifices) in what seems to be – and is indeed compared to – an out-take from Will and Grace.
Despite myself, however, and despite the excruciatingly hip way in which Will Gluck unites his characters (he manages a hit blog, she's a headhunter who hangs out atop a sky-scraper to think and attempts to "sell New York" to him via a well timed flash mob), I soon found myself warming to the whole set-up – just as I had done with its many predecessors. Friends With Benefits is delightfully – if sometimes jarringly – aware, mocking the usual genre tropes with surprising aplomb. The script is at its best when critiquing its peers, inverting tradition and trying to paint a more "realistic" picture of sex and relationships – albeit with preternaturally pretty people who seem to be unfathomably rich despite rarely doing much work.
That is not to say Friends With Benefits is not horribly derivative, it is. Like Love and Other Drugs it inexplicably tries to slip in a debilitating neurological condition (this time: Alzheimers); like No Strings Attached it often chooses quirk over character (she blinks when she swears, he sneezes when he comes); and like both of the above it buckles under its own subversiveness, falling back on formula when its leads inevitably ran out of clothes to take off (does nobody else even remember (500) Days of Summer?). But for every Jenna Elfman there's a Richard Jenkins, however and Friends certainly has its Benefits. Charming, sexy and very, very funny (the scene set on the Hollywood sign only lasts for a moment, I promise), Mila Kunis and Justin Timberlake craft a winning relationship that is thankfully more than the sum of its quirks.
About The Author