Little White Lies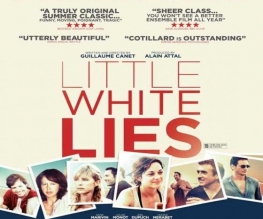 Successful hotelier Max takes his wife and friends to his swish holiday home in Cap Ferret near Bordeaux every summer, and this year is set to be no different. I mean, sure there's a couple of breakups swilling around, there's tension with the wife and one of the group, Vincent, has just announced his attraction for him – but these sorts of issues will dissipate in the summer sun, right? Max's niggling problems are suddenly slammed into perspective when one of the group, Ludo, is involved in a horrendous motor-bike accident and confined to a hospital bed – it's not exactly the start anyone hoped for.
Trapped on a life-support machine and surrounded by his tearful companions, Ludo's health seems pretty stable but it's clear to everyone he's going to be out of it for at least a few weeks. So, with the trip all planned, the kids out of school and the flights booked it seems like there's little else to do but head on out to Bordeaux, at least until he's sentient. It's what he would want, after all.
[FLOWPLAYER=http://img.ozap.com/0256018F03652086-c2-photo-les-petits-mouchoirs.jpg|http://uk.clip-1.filmtrailer.com/5627_21845_a_2.flv,275,180]
Once settled into their beach-side paradise, it doesn't take long for us to see that Ludo's accident is the last thing on anyone's minds. With gently simmering relationship complications at every turn, we're soon caught up in the tangled web of tiny, seemingly insignificant resentments – with no issue ever large enough to drag into the light. Canet's script does a great job of establishing joyful, believable relationships that feel worn in and comfortable, and it isn't long before you truly believe you're watching a group of people who -for better and for worse – have known each-other for a long, long time. What's even more impressive is the way Canet manages to create a sense of Ludo's loss within the group – we never really get to know him, but nevertheless we feel the gap he leaves.
Essentially exploring the careful balance between the day-to-day falsehoods that keep us going and the ones that end up destroying us, Little White Lies skips slightly bizarrely between quiet, beautifully observed scenes and sprawling minutes of hysterical drama, doing much better when it resists the urge to give into the unsaid. Some of the most lovely moments play out in total silence, reminding you of the simmering subtleties of films like Festen and The Big Chill – highly preferable to the few uncomfortably honking scenes reminiscent of the Tyler Perry canon. It still just about justifies its two and a half hour running time by employing the considerable skills of a truly brilliant ensemble cast, but you're certainly ready for it to end when it does. Really, watching Little White Lies boils down to any trip you've had with fiercely close friends: good fun for a while, but you can't help but be relieved when it's over.
About The Author