Marion Cotillard to play lead in new Dardennes film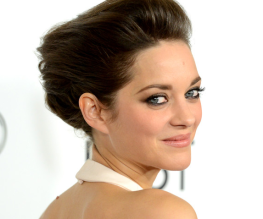 Marion Cotillard is set to wow us once more by starring in a new film by celebrated filmmakers, the Dardenne brothers. Cotillard seems to have no problem shifting from big Hollywood blockbusters like The Dark Knight Rises and Inception, to international, critically acclaimed Cannes nominees like Rust and Bone and La Vie en Rose. The bitch. It'll be the first time Marion Cotillard has worked with the Dardenne brothers and their first film since The Kid with a Bike in 2011, which garnered a 96% rating on Rotten Tomatoes. Holy Smokes!
Marion Cotillard will play the lead role in Two Days, One Night (Deux Jours, Une Nuit) which is set to begin filming in Belgium this summer. Cotillard will be playing Sandra; a wife who has only one weekend to convince her colleagues to give up their bonuses lest she lose her own job. This may not sound like the most breathtaking of all premises, but have faith in the Dardenne brothers' filmic history; their filmography sees them boasting two Palme d'Or awards and 35+ years of serious r-e-s-p-e-c-t. The French actor Fabrizio Rongione will play Cotillard's husband.
Back on the other side of the pond, Marion Cotillard is awaiting two American 2013 releases – Blood Ties, starring Clive Owen, Mila Kunis and Zoe Saldana, and Lowlife; a romantic drama starring none other than lowlife himself Jeremy Renner and king of all kings Joaquin Phoenix. The award-winning French actress will no doubt excel in both films and possibly even more so in Two Days, One Night. Cotillard fan club RIGHT HERE.
Think Marion Cotillard will shine bright like a diamond in the new Dardennes film? Tell us what you think!
About The Author