Potiche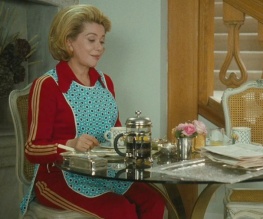 New Wave director François Ozon, whose witty and provocative films are the stuff of legend in his native France, returns to the screen with the fourth adapted play of his career. Based on a wildly successful stage comedy from the Seventies, Potiche is an unexpectedly emotive story which, quite apart from starring impossibly iconic screen couple Catherine Deneuve and Gerard Depardieu, contains every single one of the vital elements of a great film: upholstered telephones, umbrella factories and incest.
[FLOWPLAYER=http://uk.image-1.filmtrailer.com/72089.jpg|http://uk.clip-1.filmtrailer.com/5388_22798_a_5.flv,275,180]
The year is 1977, and France is awash with industrial action – and nowhere are the workers more disgruntled (funny how you never hear of gruntled workers) than at the umbrella factory run by the tyrannical Robert Pujol (Luchini). His devoted wife Suzanne (Deneuve), a 'potiche' or trophy wife whose main pursuits are jogging, needlepoint and writing dreadful poetry, is blissfully detached from the drama at the factory until Robert is unexpectedly kidnapped by his striking workforce. Suzanne's conservative daughter Joelle (Judith Godrèche) is all for sending in the riot police whilst her artistic son Laurent (Jérémie Renier) favours a conciliatory approach, but it is Suzanne who saves the day by brokering a deal with local Communist MP Maurice Bebin (Depardieu), who coincidentally happens to be an old flame from Suzanne's unexpectedly turbulent youth.
With her husband released but sent on a convalescent cruise by his doctors, Suzanne is left to manage the factory – and despite her distinctly bourgeois trappings, she proves to be exactly the breath of fresh air the ailing business needed. When Robert returns from his cruise, he is met by a bustling and happy factory with a fresh direction and a practical, sympathetic CEO – a CEO, in fact, who's enjoyed her holiday from the mantelpiece so much she's not inclined to return to her previous role as a trophy wife. Robert demands that Suzanne relinquish her duties and Maurice dreams of enticing her away from her loveless marriage, but now Suzanne's had a taste of emancipation she has new plans bigger than either of the men in her life. The French are good at revolutions, but a gender upheaval takes a lot more getting used to than simply taking the top eighteen inches off a truculent monarch…
In Potiche, Ozon wilfully channels the spirit of the 70s along with a large dose of farce and screwball comedy, a style which has long since fallen from fashion in English-language cinema. The mise-en-scène and visual effects are deliciously dated, with absurd animated split screens and knowing glances into the camera very much the order of the day. Ozon plays on the extraordinary onscreen camaraderie between Deneuve and Depardieu (who appear in their seventh onscreen relationship in thirty years), making use of devices including a gloriously hackneyed flashback scene and a synchronised, Bee-Gees-flavoured dance sequence in a nightclub. These two actors have enjoyed a celluloid partnership unrivalled (in the director's own words) by any couple since Katharine Hepburn and Spencer Tracy, and their reprisal of the uptown girl/backstreet guy dynamic which has served them well since Truffaut's Le Dernier Metro is superbly tinged with regret at the gradual loss of their fiery youth.
There isn't a single duff performance in the lead cast, with Fabrice Luchini's frothing Robert a particularly angry, horny delight – it was also thrilling to see Jérémie Renier abandon his recent run of dark and menacing characters in favour of the louche, tight-sweatered and distinctly camp Laurent. Ozon's trademark wit and enthusiasm for bucking the sexual norm continues apace, and the charming good humour which dominates the film disguises a couple of truly emotional performances which belie their flippant setting. A comedy it may be, but this is a film with a lot to say – the cultural context of the time and place in which it is set might disguise its relevance, but many of the attitudes displayed onscreen (particularly concerning the workers' struggle and the eternal tussle over women in the workplace) remain enormously meaningful. I'm not sure what English audiences will make of Potiche's delicious pastiche of farce and feeling, but Molière would definitely be proud.
About The Author