Sunshine on Leith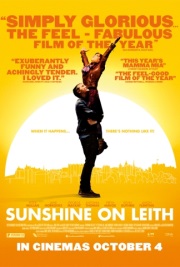 This review was first published on Steven's website Popcornaddiction.com. We love it, you should definitely check him out.
When Davy (George MacKay) and Ally (Kevin Guthrie) return from deployment in Afghanistan, their friend having been injured in a roadside attack, they find it difficult to adapt to civilian life. Liz (Freya Mavor), Davy's sister and Ally's girlfriend, tries to set her brother up with co-worker Yvonne (Antonia Thomas), an English nurse living across town in Morningside. Parents Rab (Peter Mullan) and Jean (Jane Horrocks), meanwhile, are preparing for their twenty-fifth wedding anniversary when Rab receives a letter out of the blue inviting him to an old flame's funeral, written by a grown-up daughter he didn't know he had.
Based on the stage musical commissioned by Dundee Rep and written by Stephen Greenhorn, Sunshine On Leith incorporates various songs from The Proclaimers' discography in a vein similar to ABBA musical Mamma Mia!. It opened on stage in 2007 following a number of years in development, and as such was already in pretty good, award-winning shape when director Dexter Fletcher inherited it for the film adaptation, after three successful runs in Dundee and around Scotland.
While the plot might be predictable and the characters more than a little contrived, Sunshine On Leith is executed with such verve and enthusiasm that it almost doesn't matter. From the opening bars of Sky Takes My Soul to the final chorus of I'm Gonna Be (500 Miles), the film pulses with a playful energy, the pretence of singing soldiers tempered by Fletcher's determination to make the outbursts as natural and intuitive as possible. Every time you begin to lose patience with the narrative or question a character's actions the cast launch into another musical number and your reservations are immediately drowned out by Charlie and Craig Reid's catchy lyrics.
While Jason Flemyng may enjoy top billing, his part in the film as Jean's boss Harry is little more than a cameo. The true stars of Sunshine On Leith are Horrocks and Mullan, Tesco meeting Tyrannosaur in possibly the year's most unlikely coupling. Neither are natural singers, but they nevertheless steal the show with an easy chemistry and irresistible charm. The younger actors are great too, with MacKay clearly letting his hair down after the rather more sombre For Those In Peril and Misfits' Thomas making the most of perhaps her most high-profile part to date. Although no performance is perfect, every character gets a moment in the spotlight, and each actor rises to the challenge.
Dotingly shot by George Richmond, the city of Edinburgh has never looked lovelier, and following the determined darkness of Filth it is nice to see Scotland's capital in a more pointedly positive light. The story might lack depth and edge, meaning that it falls short of other, more multifaceted musical dramas (Les Misérables, I'm looking at you), but its familial focus gives it a warmth and spirit that is as shamelessly melodramatic as it is utterly mesmerising.
About The Author