Wild Target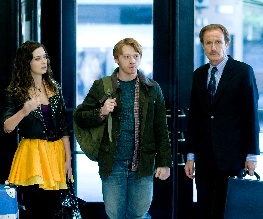 A British re-make of a black French comedy, Wild Target is a film that, sadly, never quite hits the bullseye. Bill Nighy, Rupert Grint, Rupert Everett, Martin Freeman and Emily Blunt all lent their hands to this crime caper, with a script never quite lives up to the talent around it. Despite its stellar cast and romping pace, the team are let down by bad jokes, sloppy storytelling and minimal action.
Hit man, not so hit film
[FLOWPLAYER=http://uk.clip-1.filmtrailer.com/4625_12237_a_3.flv,275,180]
Bill Nighy stars as Victor Maynard, a meticulous, lethally efficient, middle-aged and unmarried assassin, considered to be the best, having followed in the family business – but still remains under the thumb of his domineering mother, simply referred to as Mother (played brilliantly by Eileen Atkins). In contrast, Emily Blunt is the reckless, flamboyant and free-spirited thief Rose, aiming for the ultimate art con. After copying a real Rembrandt, she hands the fake version to art-loving gangster Ferguson (Rupert Everett), who makes a phone call to Victor as soon as he realises he's been duped. Victor sets out to perform the deadly hit in a car park, but as he stalks her movements, gets outraged by her random light-fingered thieving, then shocked by her sensuality and finds himself unable to kill her, despite the threat it could bring to the family's reputation. "She's completely out of control!" laments Victor.
Dismayed at Victor's inability to 'dispose' of Rose, Ferguson sends out his own bodyguard to carry out the job instead – only for Victor to be the knight in shining armour and protect his intended target Rose, who is under the mistaken impression he is an "undercover" private investigator. What's more, Tony (Rupert Grint) finds himself caught up in the commotion and puts himself down for an apprenticeship with the contract killer. "You can help me look after her," Victor asks, to which Tony replies with glee: "So I'll be your assistant!" As the unlikely trio go on the run from Ferguson's heavies including a polo neck-wearing hit man Dixon (Martin Freeman), cue car chases and fast drives down country lanes in a Mini.
Cast away
It's nice to see Rupert Grint perform well in a role other than that of Ron Weasley, and it's clear that he's got a career ahead of him. In fact, generally speaking the performances from the cast cannot be faulted, with Blunt's gloriously gregarious laughter taking over the screen, as does her on-screen rapport with Nighy's buttoned-up hit man. It's a shame the action is so tame and the gags so weary, because this group of people are capable of producing a winner. All in all it's a not a disaster, but in terms of a great night out, Wild Target is far off the mark.
What did you make of Wild Taret
About The Author