Youth In Revolt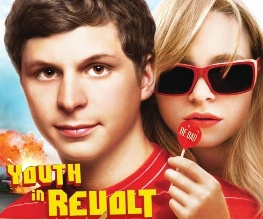 Ah, Michael Cera. He's a tricky wee tyke isn't he? The problem with Michael Cera is that for an actor to be judged as great, he has to be able to pull off more than the one part. And we're not sure he can. Part of the issue is his face – moony eyed, bland and permanently worried, he just looks destined for the under-dog role, which isn't really his fault. But by picking roles like the one he plays in Youth In Revolt, he continues to affirm the fact that this is all he can play. However, we have to admit, he does play them very well.
Growing Pains
[FLOWPLAYER=http://uk.clip-1.filmtrailer.com/3881_9959_a_4.flv,275,180]
"In the movies, the good guy gets the girl" says Nick, the socially awkward (shock shock) hero of Youth In Revolt, adding that in real life, the girl usually walks off into the sunset with a jerk. Sure enough, the shy teenager at the centre of Miguel Arteta's quirky romantic comedy, based on the novel Youth In Revolt: The Journals Of Nick Twisp by CD Payne, stands little chance of getting any girl. Nick (Cera) is caught between separated parents with younger lovers. His father George (Steve Buscemi) has a toygirl, Lacey (Ari Graynor), while his domineering mother Estelle (Jean Smart) seems blissfully happy with beer-swilling lout Jerry (Zach Galifianakis).
Suddenly, dream girl Sheeni Saunders (Portia Doubleday) sweeps into Nick's humdrum life and the insecure teenager is completely smitten, resolving that Sheeni is the woman to take his virginity. However, to woo this modern day goddess, Nick will have to call upon the expertise of his imaginary (albiet very charming) confidant, Francois Dillinger (Cera again), who readily says the things that Nick wouldn't dare let past his lips.
Que (Michael)Cera Cera…
In the wake of a slew of offbeat teen comedies – most notably Juno, Nick And Norah's Infinite Playlist and Superbad – it is becoming increasingly difficult for similar portraits of sexual awakening to stand out from the crowd. Even more so when all these films star Michael Cera as the hormonally-driven hero, who must overcome his underdog status to stand out from the jock-heavy crowd. Thankfully, the dramatic device of an invisible confidant sets Arteta's film apart, allowing Cera to channel the spirit of John Paul-Belmondo and other Gallic heartthrobs as he trots out flirtatious lines like, "I'm going to wrap your legs around my head and wear you like the crown you are".
Opening with a dazzling stop-motion credits sequence, Youth In Revolt can't quite sustain the air of ironic cool as poor Nick finds himself on the wrong side of the law thanks to his alter ego. Cera essays another lovable loser, hoping to defy the odds, and Doubleday makes a fine teen vamp, who makes her admirer blush with some of her antics. Arteta does not have any directorial brio to energise his film so he relies on the performances, and Gustin Nash's script, to keep us laughing in the dark. Though we enjoyed this predictable romp, we have to admit that occassional his trust is a tad misplaced.
How did you find Youth In Revolt? Did you find it quirky, or have you seen it all before? Let us know below!
About The Author