Buried Bidding War at Sundance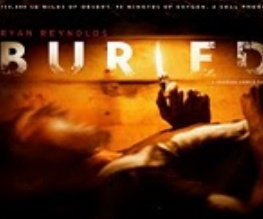 It was only a matter of time before the hot picks at this year's Sundance Film Festival started flooding in, and it appears that Roderigo Cortez's film Buried is amongst the first to cause a stir. What's the film? Well, you know what scene in Kill Bill 2 where Uma is trapped in a coffin? Did you ever think to yourself, "this is great. You know what, I just wish i could watch this for 92 minutes.". Your prayers have been answered!
The film – documenting 90 minutes of a man trapped in a coffin in the deserts of Iraq – caught the eyes of distributors including Liongate and Fox Searchlight, and a bidding war ensued. The prize eventually went to Lionsgate, purchasing the rights to the film for a cool $3.2 million. Not much by today's Hollywood standards, but pretty gosh darn good for an independent Sundance film.
So what's Buried all about? The film is a one man show, starring Ryan Reynolds (what?! Yep) as a man taken hostage in Iraq and imprisoned in a coffin, not knowing whether he will live or die. By all accounts it seems like pretty difficult viewing, and reviews have been mixed, with some critics heralding it as brilliant, minimalistic film-making and others describing it as lazy torture-porn. We'll have to wait and see before we can give our own judgement, but if you're foaming at the mouth with anticipation, we'll give you a sneaky peek at the preview, courtesy of Youtube:
About The Author