Barney's Version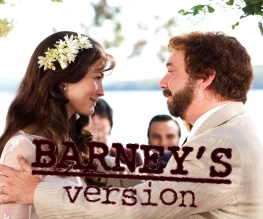 Barney's Version, which has just won Paul Giamatti his second Golden Globe, has been a long time coming. Director Richard J Lewis, who hasn't made a feature since 1994 but has a CV bursting with episodes of CSI, has been attached to the project for some twelve years, during which time the screenplay passed under the pens of five writers (including Mordecai Richler, the author whose bestselling novel, starring versions of himself and his wife, inspired the film). When I spoke to Rosamund Pike after last night's exclusive screening of Barney's Version at the Tricycle Theatre, she opined that "[this] was the film Richard has always been waiting to make." The wait, it must be said, has been eminently worthwhile.
[FLOWPLAYER=http://uk.image-1.filmtrailer.com/49099.jpg|http://uk.clip-1.filmtrailer.com/6122_18250_a_5.flv,275,180]
Barney Panofsky (Giamatti) is not the man he once was. Drinking and smoking like a singed, balding sponge, making incoherent 3am calls to his ex and rapidly losing interest in the crappy soap opera which his company produces, he is inclined to ruminate on the sixty-something years of his life and, in particular, the moments which led to his single and unhappy existence – his third wife (Pike) has remarried, his children despair of him and he keeps forgetting where he's left his car. Through an extended series of flashbacks intercut with the increasingly fragmented reality of Barney's present-day life, the audience is let into his unique version of the events which led him to enter and leave three different marriages, lose his best friend and be accused of murder.
As Barney's adult life replays eccentrically across the screen, the encounters which dictate its direction are all emphatically female in nature. There's the mad artist Clara (Rachelle Lefevre), who Barney meets in Rome and marries in a hurry when she claims to be pregnant with his child, then wealthy (but unnamed) Jewish heiress 'the second Mrs Panofsky' (Minnie Driver), a 'suitable choice' whose strait-laced parents are horrified by hard-drinking Barney and his irreverent ex-cop father Izzy (Hoffman). However, both wives are simply rehearsals for Barney's eventual meeting with Miriam, a guest at his second wedding who captivates him from the word go and whose unseen presence dominates his deeply unhappy second marriage. The phone call Barney makes in the first scene has already revealed that she will become his ex-wife by the time the two narrative timelines converge, so all that remains is to find out exactly how he managed/will manage to woo and subsequently lose her. It's complex, all this time business.
In fact, if there is to be any criticism of Barney's Version (and there is practically no need) then it must be on the subject of time. At a slightly self-indulgent 132 minutes, the film could easily have lost 15% of its running time without plot or character development having to take a hit – perhaps the inevitable consequence of a veteran TV director suddenly having one long show to make instead of thirteen short ones. Having said that, the extra length is certainly not wasted – the progression Barney's life is skilfully realised with meticulous and gradually altered sets, letting the mise en scène tell as much of the story as the actors, who are phenomenal almost without exception. It was a particular pleasure to see Dustin Hoffman, who would have nailed the lead role thirty years ago, atoning for the Fockers series with such indomitable wit and charm
However, the ultimate plaudits must go to the two leads. Paul Giamatti's pitch-perfect performance, which charts his character over thirty-someodd years, is extraordinarily realistic (there's some superb work with prosthetics) and will inevitably provide his career with another boost reminiscent of the one it received post-American Splendor and Sideways. Meanwhile, English actress Rosamund Pike (whose accent is, it must be said, bloody good) balances Giamatti's shambolic Barney with her elegant and polished Miriam, an absolute gift of a part who was, thank goodness, never once degraded by a quick shift into siren or vamp territory.
At the screening which I attended, a woman just behind me stood up and enthusiastically praised Pike for her extraordinary depiction of "my mother". The woman was Mordecai Richler's daughter, and her enthusiasm was well founded – managing to address themes of loyalty, loss, ageing and filial as well as romantic love whilst retaining a pulsing comic vein throughout, this is an endlessly beautiful film.
About The Author