Jane Eyre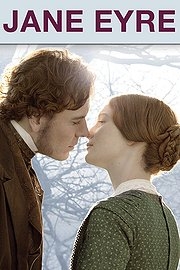 Director Cary Fukunaga said he wanted to capture Brontë's melancholic mood in his gothic adaptation of Jane Eyre. He certainly achieved this. I jumped, I cowered, I cried and I thoroughly enjoyed. Black soot pluming from antiquated chimneys, mysterious wailings in clandestine attics, eerie wanderings on Northern moors – all make for a fantastically dark take on the classic novel.
[FLOWPLAYER=http://uk.image-1.filmtrailer.com/75663.jpg|http://uk.clip-1.filmtrailer.com/7098_23340_a_4.flv,275,180]
Jane Eyre is the latest cinematic adaptation of Charlotte Brontë's 1847 novel, which follows the story of orphan Jane (Wasikowska) from her traumatic childhood through to her slightly less traumatic womanhood. Life for Jane begins with the loathsome Aunt Reed (Hawkins), moves on to beatings at boarding school, and concludes with brighter pastures as a governess at Thornfield Hall, where she meets and falls for the brooding master of the manor (Fassbender). The film progresses from Jane's adult perspective and offers only terrifying snippets of her haunted past as the film progresses.
The cinematography both beautifully and skilfully reflects the changing tone throughout the film. Rather than unabashedly lingering on stunning scenery for stunning scenery's sake, the film-making movingly conveys a mood. From the terrifying and desolate landscapes of Jane's isolated beginnings to the cheery pink cherry-blossoms and spring-time scenes marking the possibility of a warmer future, the camerawork is indulgent but never overly so.
Fukunaga claimed to have chosen Alice in Wonderland starlet Mia Wasikowska as she captures the mood of the heroine without theatricality. This really comes across in her performance; Wasikowska doesn't crack a smile until an hour into the film when she sheepishly grins at the enigmatic Rochester, a pensive Michael Fassbender. Far from theatrical, Wasikowska is stoic, broody, and skilled in feigning ugliness. She pulls off Jane Eyre's emotional restraint, downplaying her raging attraction to Rochester and managing to play hard to get until the bitter, fire-ravaged end.
The budding romance between Jane Eyre and Rochester struck a fine balance between disconcertingly swift and laughably spiritual (though it arguably consumed too much of the running time, detracting from early childhood moments that were dwelled upon in the novel). The connection between soul and intellect that the two characters harbour creates a romance that convincingly overcomes Jane's plainness and Rochester's millions. The romance allows Jane Eyre to maintain her characteristic stubbornness, independence and will to freedom. The couple's reliance on one another not for position or stability, but for a genuine companionship if not entirely believable, nonetheless made me teary come the end.
Throughout the picture, on-screen relationships are formed quickly but affectingly. From Jane's friendship with the sickly schoolgirl Helen (Freya Parks) to a motherly Mrs. Fairfax, played with sincerity by Judi Dench, the film establishes female camaraderie swiftly but with warmth. Though the dialogue can seem either raced through or laborious at times, generally Fukunaga succeeds in creating a compelling landscape in which to place his well sculpted protagonists.
This is a thoughtful adaptation, but fans of the book will be left asking whether Jane submits too heavily to Rochester or if she manages to keep hold of the enduring will and integrity that makes her one of literature's most compelling female heroines.
Jane Eyre is released on 9 September 2011.
About The Author