Lore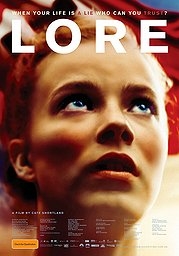 With so many films seeking to offer us a view of the Holocaust through the eyes of an innocent child – think the lacklustre The Boy In The Striped Pyjamas and the far superior My Name Is Ivan – many pessimists might assume that Lore offers nothing new to the genre. But nothing could be further from the truth.
So what's different about this Best Foreign Language Film nominee? Well, first things first, the wildly affecting drama chooses to step away from the Holocaust and Hitler's regime, instead focusing on the events immediately following the death of the Führer and the Allies' subsequent capture of Germany. And, secondly, the story is told through the eyes of a Hitler Youth child, desperately coming to terms with a new regime.
Lore (Rosendahl), the oldest of five, has been forced to lead her younger siblings across a dangerous and divided country in the search of her Omi, following the arrest of her Mutti (Lardi) and Vati (Wagner). Along the way, the children are exposed to the exposure of their parents' beliefs and actions, starvation, suffering, death and an overwhelming, almost suffocating, sense of guilt. And it isn't long before a chance encounter with a mysterious refugee (Malina) forces Lore to rely on a person she has always been taught to hate…
"All you filthy Jews! Sometimes I look at you and I can see them – one lie after the other."
Lore is an utterly conflicted character that you will, ultimately, end up sympathising with, as well as detesting, as the story goes on. She is vehemently anti-Semitic, resentful of her role as older sister (at one point, the stress of caring for her baby brother forces her to do something truly unthinkable) and stubbornly refusing to let go of her previous Hitler Youth beliefs. But, at the same time, it is hard not to feel a pang of sympathy for this young girl who is, after all, as much a victim of the Nazi regime – and her upbringing – as anyone else. Everything she has been taught to believe has turned out to be a lie, leaving her understandably distrustful and increasingly frustrated with life. And, as the enormity of the atrocities her parents helped to commit gradually becomes clear, we see Lore begin to question her preconceptions – and, eventually, actively rebel against them.
Director Cate Shortland has masterfully handled this harrowing tale, shunning conventional narrative structure and working in short, sharp takes – which help to emphasise Lore's growing sense of disillusion and confusion as she crosses a country that has been torn apart by war. She doesn't shy away from shocking images, confidently pointing her lens at the sights many of us would prefer not to see – such as the murdered body of a rape victim – and forcing the viewer, as well as Lore, to confront the horrors at hand.
However Shortland does not just rely on the stark and the obvious; she also expertly employs more subtle imagery and sensations to create a gradual sense of dread. Perhaps most notably is Lore's hairstyle; at the beginning of the film, we see her wearing her blonde tresses pinned neatly in braids around her head, as was common with many female Hitler Youth members. But, as the film continues, we see her blonde locks darkened by sweat and dirt throughout her journey, gradually being loosened and eventually lying, untied, around her shoulders. Add this to Lore's sudden disregard for the social conventions she has been taught since she was a young girl – including waiting to say Grace before eating dinner – and her crushing of a previously cherished china deer figurine underfoot (the abolition of innocence), and you begin to realise that the entire film has been framed around our protagonist's evolution in the fallen "utopia" of Nazi Germany.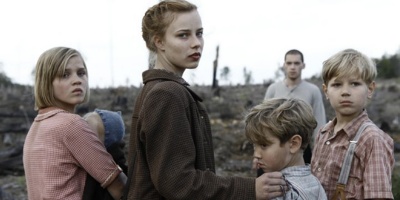 Rosendahl and Malina, obviously, stand out for their spectacular delivery, but there's no denying that all of the children have proven themselves as utterly superb, handling the complex themes and storylines with a maturity beyond their years. Hindsight makes audiences initially cool towards the five young blonde-haired, blue-eyed children – perfect examples of Hitler's desired Aryan race – but, as the plot unfolds, we find ourselves emotionally invested in their plight. Will they ever make it across Germany alive? Should the sins of the parents be visited upon the children? And can we really judge a generation who were, essentially, moulded into anti-Semites by the beliefs of their elders? The film raises some difficult questions, challenging our ethics just as much as those of Lore, and offers an entirely fresh outlook on the events of World War 2 and Nazi Germany.
It's unsurprising that Lore has been nominated for the Best Foreign Language Film at this year's Oscars; this spectacular film is provocative, visually spectacular and will leave viewers feeling emotionally drained. A definite must-see.
About The Author