Bruce Lee biopic is not actually a biopic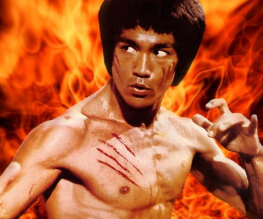 You know how the film world loves biopics? Well, they also love origin stories. So in the same way Wolverine got X-Men Origins: Wolverine, martial arts expert and moviestar Bruce Lee is now set to have his origin story told on the big screen. Screenwriters Christopher Wilkinson and Stephen Rivele are keen not to turn it into a biopic however, but considering they both worked on Ali, Nixon and the upcoming Mercury biopic (starring Sacha Baron Cohen as Freddie Mercury, no less), the distinction between 'biopic' and 'origin story' may need to be finely-tuned.
Birth of the Dragon, as the film might be titled, will take inspiration from a duel that happened between Bruce Lee and China's most famous kung-fu master, Wong Jack Man. The film's creators are hoping that this will serve as a trampoline for a potential action franchise where Lee and Wong come together to fight off Chinatown gangsters.
Prodcuer Michael London said: "Stephen Rivele and Chris Wilkinson have taken a little-known chapter in the life of Bruce Lee and used it as a jumping-off point for a bold, exciting story about the making of an international legend."
According to the story, Bruce Lee and Wong fought in San Francisco's Chinatown back in 1965, when the area was controlled by 'Hong Kong triads'. How faithful the rest of the film will stay is unclear, nor do we know how much 'true to life' stuff the rest of the potential franchise will take from Bruce Lee's life. Don't get us wrong – while we're keen to see the story of legendary Bruce Lee on the big screen, we're not sure how the rest of the world will feel about turning Bruce Lee's life into an excuse to make a kick-ass action franchise. We've got enough of those, don't you think?
What are your thoughts on a Bruce Lee: the Origins 1, 2 + 3? Let us know below!
About The Author