Midnight in Paris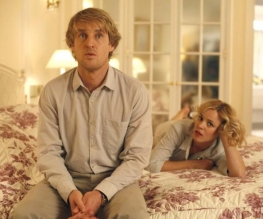 Midnight in Paris, Woody Allen's latest ode to France which opened this year's 64th annual Cannes Film Festival, centres on Gil (Owen Wilson), a struggling writer whose deluded romanticisation of 1920s Paris is causing friction in his relationship with fiancée Inez (Rachel McAdams). On a business trip to the French capital, on which he is accompanied by his bride-to-be and her less than approving parents, further strain is put on their relationship by the appearance of know-it-all acquaintance Paul (Michael Sheen). Determined to skip an afterparty and walk the Parisian streets alone by night instead, Gil finds himself transported to the era of his dizziest daydreas at the stroke of midnight, beginning in the process a nightly tradition that sees him fraternising with artistic and literary royalty until ultimately heeding that timeless advice: be careful what you wish for.
I could – and probably should – spend the first few paragraphs of this review comparing Midnight in Paris to any number of Allen's other works, only I haven't actually seen any. With only Match Point as a measure, I was surprised to find myself investing entirely in the director's latest offering; part dramedy, part timey-wimey Twilight episode, Midnight in Paris is a wonderfully electric cross stitch of celebrity cameos and creative conjecture that places this oddity somewhere between Hot Tub Time Machine and the director's own Vicky Cristina Barcelona (or so I have been lead to believe).
Boasting a career-best performance from a surprisingly capable Owen Wilson, and letting Rachel McAdams get her bitch on for the first time since Mean Girls, our fable finds a strong emotional centre in Wilson's ex-Hollywood screen-writer before his struggling nomance inevitably hits the TARDIS for act 2. With Sheen dispensing meddlesome factoids with entertaining glee, Allen ensures that his audience remains invested in both timelines simultaneously, his eye for comedy ensuring that the tone remains delightfully whimsical throughout.
It is when the narrative relocates to the 1920s, however, that Midnight in Paris comes to life. Corey Stoll and Adrien Brody lead the way as Ernest Hemingway and Salvador Dali respectively, making way for the likes of Kathy Bates, Tom Hiddleston and Allison Pill to work wonders as Gertrude Stein and Scott and Zelda Fitzgerald, even giventheir admittedly limited screen-time. Even charisma vacuum Marion Cotillard can't throw proceedings off course as perennially damp love interest Adriana, although what is otherwise smooth sailing does hit turbulence in a last act plot development that smacks uncomfortably of Inception's Russian Doll approach to dreaming.
Where Midnight in Paris runs aground, if it does at all, is in the sheer contrivance of its set up. While initial talk of psychological defence mechanisms and Golden Age Syndrome hint at a psychological complexity in the vein of Black Swan, any extra dimensionality is quickly stripped from the narrative in Allen's haste to colour within the lines and outline the narrative with unfortunate precision. What at first feels like a quirky tale of wish fulfilment is soon robbed of all ambiguity, leaving the sheer volume of celebrity encounters to take on a farcical air of incredulity.

Nevertheless, Midnight in Paris tells its story with a verve and emotionality that handles the rampant nostalgia with expert precision. While it will unlikely appeal to all, Midnight in Paris boasts enough wit, charm and cameos to keep even the stubbornest Francophile entertained, quickly atoning for the bloated pictorial prologue that precedes it. And, if nothing else, it's much, much better than Match Point.
About The Author