Mother and Child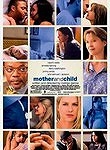 You might expect a drama dealing with adoption and motherhood to be serious, heavy-going and ultimately sentimental. Rodrigo García's film is, indeed, all three of these things whilst also managing to be an interesting, well-acted and unpredictable film. That is, for the first half at least.
Mother and Child centres on Karen (Bening) and Elizabeth (Watts) whose lives are tied together without their knowledge. Aged fourteen, Karen gave birth to a baby girl who was immediately given up for adoption. This baby grew up to be Elizabeth, a ferociously independent lawyer who has taken steps to prevent herself from getting pregnant – presumably to avoid repeating her mother's mistakes. Karen has been haunted by the loss of her daughter and yet has never sought her out for fear of disappointment. Elizabeth's trauma, meanwhile, has galvanised her independence and predatory attitude towards men.
While Elizabeth's outlook on life becomes altered somewhat by an affair with her boss Paul (Samuel L. Jackson), Karen embarks upon a tentative relationship with a coworker, Paco (Jimmy Smits). And then thrown into the mix is Lucy (Washington), a successful woman looking to adopt.
From the off, it's the inclusion of Lucy that confuses this film, distracting from the far more interesting stories of Karen and Elizabeth. The parallels between mother and daughter are clear but not over-exaggerated – both are difficult, independent women who are secretly lonely. Also complicating Karen's life is her relationship with her mother – who appears to show more affection for the cleaning lady and her young daughter Cristi (Simone Lopez). Karen's jealousy of the daughter in particular is sad and authentic. Meanwhile, the disruption of Elizabeth's loner lifestyle by an affair with pseudo-father Paul (a very restrained turn by Jackson) is convincingly done.
Amidst this it almost feels as though Lucy is intruding upon a film that doesn't belong to her. And while her storyline is fairly interesting – it follows her relationship with a potential birth mother (Shareeka Epps) – it is far less complex and emotionally involving than the lives of Karen and Elizabeth, whose stories contain some surprisingly weird, funny moments. The burgeoning relationship between Karen and Paco, for instance, is built on moments such as Paco leaving a bag of home grown tomatoes on Karen's locker and Karen pursuing him angrily into the carpark, berating him for his misjudged act of kindness. Their stilted courtship and Karen's admission that she is a difficult, damaged person is authentic and at times moving.
Against this, Lucy's story falls flat, partly due to Washington's performance being the least convincing of the three. The audience is also left constantly interrogating the connection between Lucy and the others. In the end, García ties the stories together in a convoluted way that is perhaps designed to be bittersweet, but is ultimately frustrating.
It is once the film passes the halfway mark, though, that it really falls down. Following life-changing events (that I won't go into for fear of spoilers), Karen and Elizabeth experience predictable personality overhauls. Elizabeth loosens up and starts wearing her hair down, while Karen befriends and grows to love Cristi – previously an interesting source of conflict. There is also the sudden, random inclusion of a blind teenager, Violet (Britt Robertson), with whom Elizabeth embarks upon an inspirational friendship. It's pointless, overly mushy and undermines the originality and subtlety of the film elsewhere .
Despite an interesting premise and strong performances from Bening and Watts (who are both perfectly cast) this film complicates itself by integrating too many elements, by trying to tie together strands in an unnatural way. Stripped back to the lives of a woman and her long lost daughter, Mother and Child would be a far more interesting, involving film.
About The Author