Nowhere Boy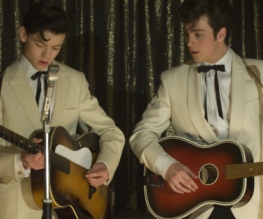 Directed by conceptual artist Sam Taylor-Wood, whose previous interest in celebrity included a video portrait of David Beckham sleeping, Nowhere Boy is a biopic of John Lennon's early life. Focusing on his pre-Beatles stardom, the film charts the complex relationship between the legendary man himself (played by Aaron Johnson), his staid and respectable Aunt Mimi (Kristen Scott-Thomas) and his free-spirited mother Julia (Anne-Marie Duff).
Oedipus John
[FLOWPLAYER=http://uk.clip-1.filmtrailer.com/3666_9313_a_3.flv,275,180]
Taking a few liberties with the actual facts of Lennon's life, the film begins with John discovering that his Aunt Mimi's sister Julia is actually his real mother. There's divided loyalties all round – clashes abound between the strict and matriarchal Mimi and the extroverted yet undependable Julia, with Lennon stuck very much in the middle, lashing out with both his razor-sharp Scouse tongue and the strings on his guitar. His love of music increases as he grows closer to his mother, whose zest for life and love of rock'n'roll pulls him inexorably away form his domineering guardian.
Any narrative exploring the life of such a world-renowned musician is bound to garner attention from die-hard Beatlemaniacs and casual fans alike, not to mention critics, scholars and pretty much anyone with a passing interest in the most influential band of the last century. And it's a testament to the first-time directing skill of Taylor-Wood that Nowhere Boy will satisfy pretty much everyone who goes to see it. She presents the adolescent Lennon as an unformed creature, hinting at his approaching genius but never overplaying it, and your sympathies are easily won. This is also due – in no small part – to Johnson's wry, arrogant performance and a subtly suggestive screenplay from Control writer Matt Greenhalgh. Even though we know how the story ends, careful, muted direction and design ensures the drama never descends into parody or melodrama, and the drab greys and browns of a destitute 50's Liverpool are beautifully evoked – almost a character in themselves.
Another Long-Haired Lover From Liverpool?
And the characters and acting are where the true strengths of Nowhere Boy lie. Alongside Johnson's frustrated and emotionally tender Lennon, Scott-Thomas shines as the dominating yet loving Mimi. Her concern for the young Lennon's wellbeing is her defining trait, and its played in such a manner that even her strictest outbursts are clearly born of love. Duff's Julia is enigmatic and alluring, and makes it easy to see why John becomes so enraptured by her verve and free spiritedness. Thomas Sangster's McCartney – while looking almost painfully young – is also a highlight, providing a perfect foil for Johnson's acerbic wit. Shame the real feller would grow up to marry Heather Mills, get fat and record The Frog Chorus, but there you go.
Never pandering to its audience or descending into pointless hero worship, Nowhere Boy might not tell you anything you didn't know about Lennon, but it certainly provides a better understanding of the hugely complex man he would become. Though not exactly an historical piece, it's certainly an artistic one, and a hugely enjoyable one at that.
What did you think of Nowhere Boy? Pure Sergeant Pepper, or more like the Plastic Ono Band? Leave us your thoughts below!
About The Author