Parkland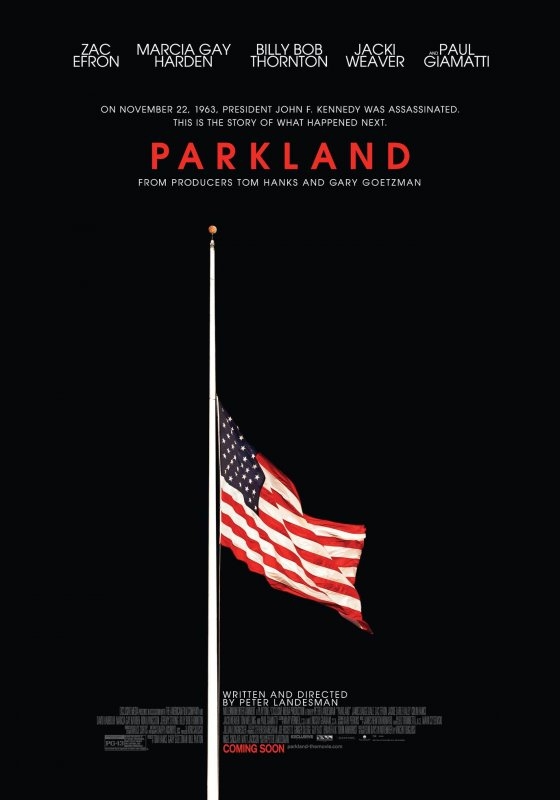 On Friday 22nd November, 1963, less than an hour after arriving in Dallas, Texas from Carswell Air Force Base in Fort Worth, President John F. Kennedy (Brett Stimely) was shot dead while passing through Dealey Plaza in an open-top limousine. The presidential motorcade then rushed him to Parkland Hospital, where Dr. Charles James "Jim" Carrico (Zac Efron) fought in vein to save the president's life. Elsewhere, Robert Edward Lee Oswald, Jr. (James Badge Dale) was informed of his brother Lee Harvey Oswald's (Jeremy Strong) arrest and suspected involvement; amateur filmmaker Abraham Zapruder's (Paul Giamatti) footage was seized by Secret Service Agent Forrest Sorrels (Billy Bob Thornton); and Vice President Lyndon Johnson (Sean McGraw) was sworn in as the next president of the United States.
Perhaps fittingly, November is the month of remembrance. Just as BBC One's The Day Of The Doctor marked the 50th anniversary of the birth of Doctor Who, Parkland marks fifty years since the death of President John F. Kennedy, who was assassinated in Dallas that same weekend. Whereas Oliver Stone's JFK explored the events of the day itself, pouring over evidence and positing one of history's most enduring conspiracy theories, Peter Landesman's film instead centres on the aftermath at and around Parkland Hospital, as detailed by author Vincent Bugliosi in his book "Reclaiming History: The Assassination of President John F. Kennedy".
It's certainly an interesting basis for a movie, and the three days following the incident were hardly light on material for Landesman to use. The hunt for the shooter and subsequent arrest of Lee Harvey Oswald is, at least outside of America, by far the most well known of the entwining narratives of which Parkland is comprised, but most of the film is dedicated to the substantially lesser known consequences of Oswald's actions. Efron and Gay Harden impress as the doctor and nurse tasked with operating on both the president and his alleged killer, as does Giamatti in the role of reluctant celebrity Abraham Zapruder. The star of the film is undoubtedly James Badge Dale as Robert Edward Lee Oswald, Jr., however, who is arguably the person most affected by his brother's actions.
There are some striking scenes in Parkland, and many of them take place in the hospital from which the film takes its name. The scenes of surgery are strikingly graphic, and Landesman doesn't shy away from the horrific injuries suffered by Kennedy. Kat Steffens doesn't get much to do as the First Lady, but as she sobs from the corner of the room, clutching a shard of her late husband's skull in her blood-stained, gloved hands, it is impossible not to feel for her loss. Another memorable scene comes later, when Kennedy's state funeral is inter-cut with Oswald's own, and Robert is forced to beg the paparazzi to help him bury his brother in the only cemetery willing to accept his body. Unfortunately, however, such scenes — most scenes, in fact — are marred by near-incompetent camerawork.
Parkland is no JFK, but it is nevertheless insightful in its own small way. Despite dramatising one of the most infamous moments in American history, the film approaches the event from an angle just novel enough to keep things interesting. Incomprehensible cinematography aside, Parkland is a perfectly enjoyable film, and one which benefits from some unassuming but strong performances and a story that is for once relatively forensic and light on speculation.
This review was originally published on my personal blog, Popcorn Addiction.
About The Author