Reality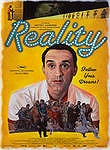 Perfectly offset by Alexandre Desplat's ghostly soundtrack, Reality opens as any fairy tale should end. In one breathtaking panoramic sweep of an Italian city, we follow a horse and carriage along a cobbled side street, treated only to the sounds of trotting hooves and choral voices. As the Cinderella-style carriage finally arrives at a flamboyant Big Fat-style wedding, complete with flying doves and a D-list celebrity appearance, we are plunged into the sad truth that in placing significance in today's celebrity culture, we have managed to override talent with narcissism.
Reality follows Luciano (Arena), a poor fisherman and low-level con man, and his dreams of empty-headed stardom. After recent Italian Big Brother winner Enzo (Ferrante) makes a special celebrity appearance at a friend's wedding, Luciano concludes that Enzo is no more talented than him (quite rightly so… neither is particularly gifted with talent). Fuelled by his family's encouragement, Luciano attends the next Big Brother audition, convinced afterwards that he's made an impression. Much to the horror of those around him, Luciano soon falls under the delusion that his every move is being watched by a TV crew, and so begins a series of insane 'charitable' acts – from selling his fishstand to dolling out his furniture to complete strangers.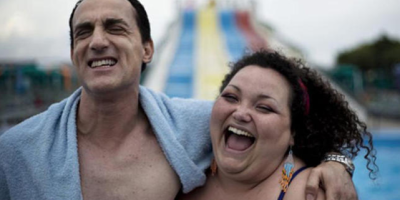 Reality is every bit a modern fairy tale. Luciano is childlike and naïve, reminiscent of Pinocchio, and the film consistently remains at a non-judgmental distance from its protagonist. This, along with an underlying tone of darkness, turns Reality into a sophisticated media satire rather than a silly film about Big Brother. Director Matteo Garrone relies on the audience's ability to form their own opinion in the small but powerful scenes exhibiting Luciano's self-delusional fantasy, as when Luciano convinces himself that a cricket is actually a CCTV-style 'bug' sent from Big Brother producers. Humorous though it may be, it stands out as a shocking commentary on our capacity for self-deception.
The film is aided by outstanding performances from the cast, some of whom you'll recognise from Garrone's previous film, Gomorrah; while the performances never falter, Reality may nevertheless have benefited from some judicious editing. Arena, however, continually delivers a brilliant performance as the puerile fame-hunter, Luciano, alongside a heartfelt performance from his onscreen wife (Simioli). It is Paone's performance as Luciano's empathetic and devoted friend, however, that truly eclipses those of his co-stars. Somewhat reminiscent of a Richard Jenkins or James Cromwell character, Paone remains a solid foundation of faith and loyalty for Luciano – just as any great fairytale deuteragonist ought to be.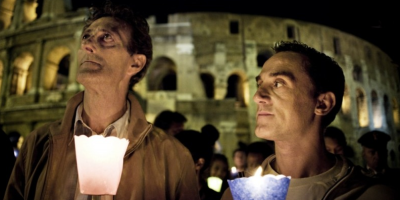 While Reality isn't a kick-back-and-relax type film, it is a smart, modest satire that fully deserves its Grand Prix win at the 2012 Cannes Film Festival. It may not be the first film to touch on the politics of reality TV (remember The Truman Show?), but Garrone is certainly the first director to shows its effects on Italy, a notoriously Catholic country. Incorporating beautiful cinematography but sometimes taking too much advantage of Italian stereotypes (there's a weirdly large number of 'mamma mia!' exclamations), Reality succeeds in weaving a modern-day parable about the perils of glitz and glamour. The narrative may lose its focus slightly in the second half, but the message is almost always loud and clear; even in the heart of the ultra-traditionalist Catholic world, in an area as renowned for its musical and theatrical riches as Naples, the sordid – but flavourful – American junk food of reality TV threatens to displace the time-honoured cultural dishes of old.
About The Author