Sweetgrass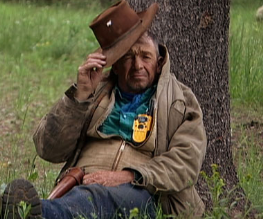 The two anthropologist-filmmakers embedded themselves within the Montana farming community and shot this study over two years and spent another six in the editing phase with another bunch of titles. Sweetgrass is the documentary designed for a theatrical release.
Filled with gorgeous photography and scenery, which occasionally achieves a curious flat photographic effect, the film simply observes the processes, trials and tribulations of the cowboy-farmers as they herd sheep across the land, up the Absaroka-Beartooth Mountains and back down again. That's it. The only time of high drama occurs when a bear attacks a sheep and leaves its mutilated carcass for the farmers to discover.
The journey is a slow crawl, but what unfolds is pastoral magic as the camera captures little moments of grand life. The cowboys are given as much screen time as the sheep and the landscapes. These elements merge into a moving portrait. There are no attempts at Robert Flaherty-like staged incidents, just an honest account of a final trip taken by cattle and men.
The cowboys clearly have mixed feelings about their lives and jobs. In one scene, we witness a cowboy punching his horse in the face in frustration. Such a violent and uncalled for action shocks. The language the farmers use is mostly littered with swearing of a highly imaginative kind. "You sour cunt motherfuckers" one man yells out as he's reaches his limit and the end of his tether on the cold mountain side. It's not the kind of language you'd hear on the National Geographic Channel.
One incredible scene recalls Werner Herzog's opening shot to Aguirre: The Wrath of God. Imagine a human trail up a mountaintop replaced with a gigantic line of sheep. In long shot it looks like a bare mountain until the slow zoom spells out its wonder. Another masterful shot sees massive banks of cloud spreading their shadow across the land.
These moments of aesthetic beauty are matched by the charm of the premise. Sweetgrass won't be for everybody, certainly not those who enjoy fast-paced narratives. Ilisa Barbash and Lucien Castaing-Taylor's excellent documentary moves at the pace of, well, a herd of sheep going up a mountain. Nevertheless, this is a fine undertaking.
About The Author