The Fighter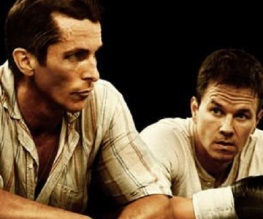 Director David O.Russell's previous credits: Spanking the Monkey and I Heart Huckabees, are hardly the foundation for a classic sports movie. But Russell uses his trademark interest in the dysfunctional family to bring nuance to this boxing flick, which could've so easily been a run of the mill, zero to hero affair. Micky (Wahlberg) is a quiet young man, living in the shadow of half brother Dicky Eklund (Bale) whose 1978 knockout of Sugar Ray Leonard has made him a hero in the small town of Lowell, Massachusetts. Years later, Dicky is a crack junkie with 27 arrests under his belt, clinging desperately to his former glory by using Micky's promising career to reignite his own comeback. Micky is manoeuvred from bad fight to bad fight by Dicky and overbearing mother Alice (Melissa Leo) until he meets Charlene (Adams), a college dropout who sees a glittering future for the boxer, if only he can abandon his family.
The dedication that Bale and Wahlberg put into the movie is jaw dropping. Mark Wahlberg trained for four years to attain Micky's physique and refused to use a stunt double, getting his nose broken a couple of times in the process. Christian Bale undertook a different physical strain, reducing his body weight again (as he did in The Machinist) to play the junkie Dicky. Bale thoroughly deserves any Supporting Actor Oscar hype. With an electric nervous energy, he is all sweaty, sinewy limbs and bulging eyes, dancing down grimy streets to reclaim a dream he knows has long gone.
The cinematography attempts to shake things up, recreating the boxing matches from the point of a TV viewer at home (using actual TV cameras to create a fuzzy graininess). The result is nostalgic even for those who have never been to a match, with the commentators wryly commenting on the fighters' tactics, and their statistics flashing up on the screen. The actual fighting is too good to waste a TV camera on, though, and here Russell really moves in for a ringside seat. Though the sound of the punches has obviously been altered to be louder, we wince as fists find contact with flesh, and spit and blood are flying across the ring. The match where Dicky defines his boxing style (taking every punch to tire out his opponent) is edge-of-your seat stuff, with the commentators screaming at the his possum-like defence.
Sports movies tend to be their best when they are in the ring, on the field – in the midst of their subject. But Russell manages to make even the sparse, grey town of Lowell seem evocative. The film begins with Dicky charging down the streets of Lowell, Massachusetts, followed by an exhausted camera crew from HBO. He hugs babies, kisses adoring girls, shakes an old man's hand and announces to the neighbourhood that 'they're making a film about my comeback!" However, the hot, squalid town seems no place for such a documentary, and we are quick to find out HBO is using Dicky for a program on crack addiction.
Performances and cinematography is what elevates this film from beyond a mere sports movie. Adams casts off her 'good girl' stereotype to play scrappy, sexy Charlene, Melissa Leo is perfect as the brassy, domineering mother of nine, and Bale steals the show with as troubled Dicky. Russell thoroughly inhabits Lowell's landscape, creating a picture that all too well illustrates the claustrophobia of the poor American town, where talent alone won't help you escape.
About The Author