Leaves of Grass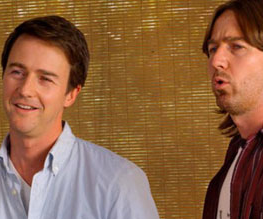 Whatever has happened to Edward Norton? He has been hailed as one of the finest actors of his generation after bursting onto the scene with a scorching collection of initial performances culminating in his delivery of the heavyweight one-two of Derek Vinyard in American History X and the Narrator in Fight Club, two of the defining films of the 90s. Since then however his talents have been put to use in much more mediocre fare, with 2002's The 25th Hour arguably his last great film; while his acting capabilities will never be in doubt, his critical faculties are being called increasingly into question.
And that's because he keeps choosing films like Leaves of Grass. Written and directed by Tim Blake Nelson, who also has a supporting role, it's the story of Bill Kincaid (Norton), an urbane philosophy professor who returns to his Oklahoma home upon receiving the news of the death of his identical twin brother Brady (Norton again). Only his brother isn't dead – is, in fact, quite the scamp, who has pulled his brother's strings, getting him to return so that he might envelope him in shady, marijuana-scented dealings with a rival drugs kingpin (Dreyfuss, continuing his minor-scale comeback).
Leaves of Grass 's major failing is that it's not sure what it wants to be. Nelson clearly has aspirations of turning in a Coens-style tale of criminal bungling, littered with moments of humour and bloody carnage, but he also seems to want to get in on the heavier stuff, with characters musing about life, the nature of life, how it's a hard-knock life etc. Ultimately the film falls between the two stools with a loud, embarrassed, "right-I'm-swearing-off-booze-forever" sounding bump. Shame, because Norton's twin performances are compelling, as you would imagine, and the technical kudos received for depicting them both at the same time are fully deserved. Also, Susan Sarandon is decent as his estranged mother, and Dreyfus enjoyably over the top in his token bad guy role. But it all adds up to too little, leaving us to hope that David Fincher hasn't deleted his former star's number and one day soon gives him a call.
About The Author