The Hunt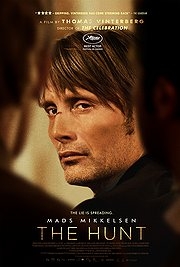 As a founding member of the Dogme 95 movement, Thomas Vinterberg is no stranger to discomfort. Dogme 95 was a celebration of uneasiness both formal and thematic, reveling in a new way to cast a raw, unvarnished eye on subjects of equal discomfiture. Vinterberg's Festen was its first offering, and The Hunt sees a return to Festen's discomforting story, while eschewing its more experimental aesthetic. Visually, it's a painterly trip into a rural village's heart of darkness.
Set in a small Danish village during the run-up to Christmas, The Hunt is a coruscating vision of mob mentality and the mass hysteria that erupts when a member of the small community is accused of sexually abusing a young girl. Mads Mikkelsen delivers a stunning performance as Lucas, a nursery teacher who is suddenly and irrevocably subjected to a brutal persecution at the hands of his fellow villagers. When one of Lucas's young students named Klara accuses him of sexual misconduct, it is picked up on by Grethe, the head of the nursery, and a seed of doubt is planted. From here, Vinterberg takes us through Lucas's waking nightmare as friends turn into enemies, and familiar streets and shops hang toxic with an air of chilling menace.
The Hunt is infinitely more interesting than a routine mystery because Vinterberg clearly underlines Klara's accusation as a lie. Speaking to Grethe after kissing Lucas and being scolded for its inappropriateness, Klara twists the event in a moment of childish anger and embarrassment. Lucas is told of her accusation and shrugs it off, knowing it to be untrue. He soon becomes a victim of near-total exclusion, turned away in bouts of silent dismay and mounting violence. Vinterberg is careful not to let events snowball into outright mayhem, exerting a delicate grip on the tale's progression. Action and inaction are the order of the day as we are alternately shown a community's bubbling desire for vengeance, coupled with a repressed suspicion of the actual truth.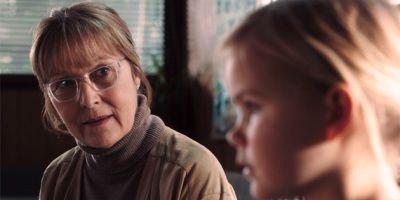 We are never in any doubt about Lucas's innocence, but Mikkelsen creates a complex character who isn't always easy to sympathise with. Initially shrugging off the accusation, as the community begins to throb with menace and events turn nasty, he refuses to deem the situation believable enough to issue an impassioned denial. Consistently confronted by parents about the accusation, he asks questions of them. Disbelieving, he asks if these, his life-long friends and colleagues, truly take Klara -noted for her "vivid imagination"- at her word. "Do you believe her?", he asks. The response is a bowed head of betrayal, performed en masse. Vinterberg intercedes, and asks an uncomfortable question of his own: should Lucas be so shocked?
Rather than teasing the audience by withholding Lucas's innocence or guilt, The Hunt's real interest is in the underlying causes of mob mentality, and a community being brought together in the darkest possible way. It quickly takes on a fable-like quality, cut from the same cloth as Atom Egoyan's The Sweet Hereafter and Michael Haneke's The White Ribbon. Who did what is not as important as what is signified by the fallout. Klara's lie is of course a serious matter. But it gradually becomes apparent that the community of tight-knit parents uses it to vindicate their silent perception of Lucas's otherness, which had previously laid quietly below the surface of their friendship. They are willing to allow what they suspect to be untrue to excuse the completely unjustified banishment of a man who isn't quite the same as them. In a particularly uncomfortable exchange, they even welcome it. Klara is not a bad girl, she just told a lie without knowing the significance of it. Explaining to her mother that it was in fact a falsehood, she is reassured that it did happen, and that "we're so glad you told us." Its significance is not underlined, but Vinterberg lets the line linger.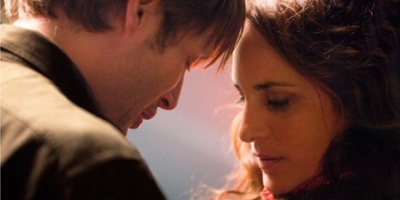 Lucas's otherness is plain to see. Comparatively, he is educated, divorced, and has only another outsider -dark-skinned nursery helper Nadja- for human companionship in his "big lonely house on the hill." He might as well be Frankenstein's monster for all the harassment he endures. Ultimately, he is absolved of any wrongdoing, but Vinterberg is too savvy to ignore the inherent distrust that lurks at the heart of any community. Lucas can forgive Klara, and does so in a sweetly underplayed scene. But, reunited with those who tried to expel him from the village, he knows that the damage is done. Their trust too, if it was ever genuine, remains clouded. Smiles, glances, handshakes, all of it is tainted. Not by recent events, but a deeper malignancy that was always present, and for a brief moment reared its head. Vinterberg gets to the heart of it all with a forceful clarity, providing a squirming dissection of the headspace shared by our darkest hopes and fears, and producing one of 2012's finest films in the process.
About The Author