The Paperboy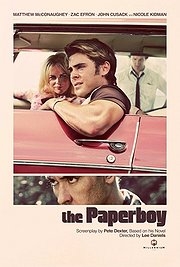 The Paperboy opens with a reluctant interview with Anita Chester (Macy Gray) about events that took place in the summer of 1969 in Lately, Florida. Asked by the unseen interviewer what she remembers about that last such season of the sixties, she replies languidly through cigarette smoke "it was hot." The same could be said for the movie itself, as sultry and steamy as a brothel in Beirut (doubtless). Gray's narration, in those thick sexy tones made famous by her music, continues throughout the film, but we are otherwise left sizzling where we are immediately thrown, in the oven of the southern USA on heat, the flesh of bodies sweating lustful confusion under the glare of the white sun.
We are introduced to Ward Jansen (Matthew McConaughey), a reporter for the Miami Times returning to his hometown of Lately, Fla., on a mission to uncover the truth about the murder of a despicable local sheriff. The man was bad news according to Anita; bloated and bigoted, feared by blacks and whites alike and responsible for the deaths of not a few of them. It seems that this lardy lawman had it coming. On Death Row convicted for the murder is Hillary Van Wetter (John Cusack, in repulsive reptile mode), whom Jansen suspects has been wrongly condemned. Determined to be "last and right" rather than "first and wrong" about the story, Jansen recruits his twenty year old brother Jack (Zac Efron, of whom more anon) to help himself and fellow journo Yardley Acheman (David Oyelowo), a black man from London whose presence exposes a lot of unqualified racism in the community, to find out the truth about the case.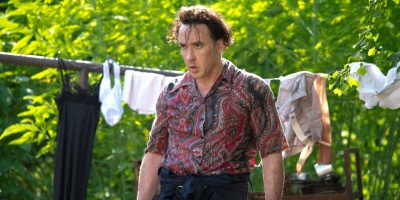 The team are busy setting up a makeshift office in the Jansen garage when up the path walks trashy blonde Charlotte Bess (Nicole Kidman, on deliciously dirty form) in her high heels and cocktail dress weighed down by brown boxes of 'evidence'. Though she has never met the accused Van Wetter, they've been engaged in a colourful correspondence and are now engaged to be married. She's convinced of his innocence, even bringing along the blue letters as testament to his good character. Acheman is against her, but Ward can see how having buxom Bess around could make Van Wetter more forthcoming to them when they visit him in jail. This proves to be a more prescient analysis than Ward – and I suspect many cinema audiences – would have hoped.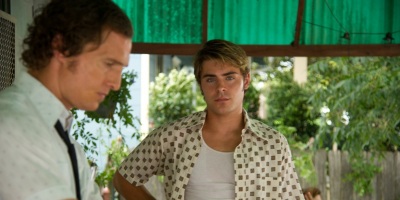 In a scene which I haven't decided is either very brave and spectacular or utterly degrading and unnecessary, the team rock up to the decrepit pit of a prison in which Van Wetter is being held in order to get some information out of him. This is the first time that the betrothed have encountered one another, but they've graphically imagined every detail of the consummation of their love in the letters. Which helps when Van Wetter demands Charlotte spread her legs, rip open her pantyhose and engage with him in a scene ending in mutual orgasm in front of the assembled do good-ers. We're getting down and dirty in Lustful Lately, and that's only the beginning.
The Paperboy features a lot of wading through swamps, a potent metaphor for the substance of this film about the attempts of various characters to get where they want to go while luxuriating in the filth of their journey. Jack Jansen is a champion swimmer, chucked out of college and now the eponymous paperboy in his home town. Efron is engaging and appropriately indulgent in his pure physicality as his untested sexuality overflows in his desire for the tormentingly tempting Charlotte. In another scene drenched in indignity his urges threaten to overwhelm him as he lies next to her on a beach, bits of herself falling out and being eaten up by his eyes. To cool off, he dives into the sea but is quickly convulsed mid-swim by the pain of jelly-fish stings. Falling onto the beach in agony, some nearby girls rush to his aid and gasp that the only thing to do is to urinate on the infected areas, which include his face. The prospect of these unknown young things aiding her young Jack infuriates Charlotte, in after dismissing the ladies in a foul mouthed threatening tirade, she provides the requisite aid herself, the sun glistening into the camera amid the torrent of her liquid refreshment.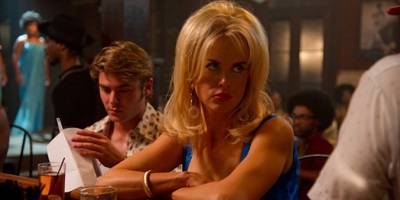 Apparently The Paperboy was booed by certain sections of the audience at Cannes for its low and seedy content, too much of the gutter for their refined minimalist tastes. This is director Lee Daniels' first effort since his lauded melodrama Precious, and it's incredibly easy to see how this film could offend certain sensibilities. I found the film's lowly luxury an utter treat, not quite like anything I've seen before. It reminded me most of those early chapters of Harper Lee's To Kill a Mockingbird, where the heat, mud and fear packed into the little community ooze off the page in a pungent cocktail of colour and stench. The Paperboy's subject matter is dark and grimy, but its characters dance to soul music in underground bars, and to the sound of summer outside in the tepid rain. It's an illicit feast of a cinematic experience that should be gorged upon like authentic Southern Fried Chicken, and then washed away and remembered for the rare but naughty treat that it is.
About The Author