The Woman in the Fifth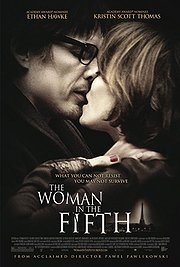 After an eight-year break from our screens, Polish-ish auteur Pawel Pawlikowski returns with a typically surreal and atypically supernatural film set in a dark and unfamiliar Paris. Endearing, unnerving and layered with potential interpretations that won't occur to you until days after you leave the cinema, this is a slick and stylish Jacob's Ladder for the 2010s.
American writer and lecturer Tom Hicks (Hawke) has arrived in Paris under something of a cloud, the nature of which will remain unexplained. After narrowly avoiding the police when he barges in to his ex-wife's apartment in the hope of seeing his estranged daughter Chloe, Tom dozes off on a bus and wakes up at the end of the line (SYMBOLISM ALERT) minus his luggage and wallet. Destitute, drained and really not very good at speaking French, Tom ends up lodging above a grubby café run by some deeply suspicious North African fellows, sharing his toilet with someone for whom 'flush' is just another syllable and taking on a tedious and very odd job as a night watchman to pay the bills. This is not the classic City of Lights experience.
Fortunately (perhaps), two women enter Tom's rather empty life at once. First comes Ania (Joanna Kulig), the earnest Polish waitress who falls for Tom after reading his only novel… but who may not be as free and easy an option as she initially appears. And then there's Margit (Thomas), a beautiful widow with a literary past and a clear intention to involve Tom in her horizontal future. As Tom's days blend farther and farther into one another – write in the café, visit Margit in the 5th arrondissement, spend a night locked into his CCTV station, linger over a glass of tea with Ania, write in the café – it's increasingly hard for both him and the audience to tell how much of what's going on around him is actually real…
Pawel Pawlikowski's long absence from the cutting edge of European cinema (he hasn't been making crap, he just hasn't done anything much) has been a source of sorrow for many film fans. Thankfully, he's back with a vengeance. The Woman in the Fifth displays the penchant for surrealistic and challenging film which has echoed throughout his work since his first documentaries in the 1980s. In many ways, this film represents a refinement of techniques displayed in his two previous full-length features. The Woman in the Fifth presents an unexpected and not entirely pleasant view of Paris (long beloved of all sentimental directors) which recalls The Last Resort's depiction of Margate as an overflowing refugee camp, whilst Pawlikowski's talent for ruthlessly cutting a book into its component parts and rebuilding an infinitely more exciting narrative was honed in My Summer of Love only to be fully unleashed here.
The Woman in the Fifth, though, is much more than simply a continuation of Pawlikowski's earlier work – or, indeed, than Pawlikowski's achievement alone. There seems almost no point in lauding Kristin Scott Thomas' superb performance (who else could possibly be cast as an alluring Anglo-French 50-something woman who smokes and fucks like the world's about to end?), but it's a real pleasure to see Ethan Hawke give such a measured and mature performance – perhaps it helps that he is himself a distinguished novelist, just one more fact which builds into the film's rich metafictional themes. The supporting cast is excellent but seems barely real, so intense is the sense of disconnection which swirls from Tom into the audience; the one truly stand-out performance, however, comes from English-language newcomer Joanna Kulig. Pawlikowski discovered Emily Blunt – could Kulig be his next protégée?
I finished The Woman in the Fifth unsure of what had just happened and very much undecided as to how I should interpret the film's ending – as Tom grows gradually more lost and frightened the certainties of his narrative evaporate along with the viewer's preconceptions. When I met Pawel this week (interview to follow!) I asked him what the ending meant, and he flat-out refused to tell me. "Don't think about it too much, either," he smilingly cautioned me. "This isn't a film that you should pick apart." So I'm not going to bother; just go and watch it.
About The Author