Villain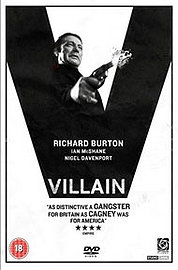 The hotly anticipated adaptation of Shuichi Yoshida's 2007 novel Akunin (Villain) attracted more than twenty production companies and a slew of directors all vying for the rights to what was almost inevitably going to be a domestic success in Japan. Korean-Japanese director Lee Sang-il, who won universal acclaim for his 2006 film Hula Girls, was eventually given the job – and he has thoroughly justified his good fortune. Villain is by turns an intense crime drama and a sensitive romance, but it is never less than utterly captivating.
Insurance saleswoman Yoshino (Mitsushima Hikari) is playing a dangerous game. She tells her friends that she's dating college student Masuo (Okada Masaki), but in fact he couldn't be less interested in her – the only action she's getting is from blue collar boy Yuichi (Tsumabuki), who she met on a dating site and who pays through the nose for her fleeting affections. One night, Yoshino blows Yuichi off to go driving with Masuo… and winds up strangled at the bottom of a ditch. Her distraught father (Emoto) demands that the police do more to find her killer, but neither Masuo nor Yuichi is anywhere to be found.
Meanwhile, Yuichi has met another girl online – lonely shop assistant Mitsuyo (Fukatsu), who is desperately seeking a relationship that isn't with her domineering sister. Yuichi, whose lonely life revolves around caring for his grandparents in a remote village, is anxious to spend more time with Mitsuyo but terrified that she'll find out about his association with Yoshino; however, when he is forced to go on the run he can't bear to leave her behind. As Yuichi and Mitsuyo try to evade the police, the extraordinary story of what really happened to Yoshino comes to light – and it turns out nothing has quite been as it seems.
Extraordinarily, Villain manages to achieve every aim which it sets for itself. The (admittedly overlong) introductory sequence, which essentially continues until Mitsuyo appears after the murder, lays the foundations for a crime thriller as well as posing important questions about the background and motivation of Yuichi, his long-suffering grandmother (Kiki) and Yoshino's doting and frustrated father, whilst also hinting at the possibility of a romantic character study to complement the darker tones of the script. Regardless what you're anticipating, you won't be disappointed; by turns pulse-thumping and tear-jerking, Villain's complex skein of plots is deftly woven into, like, a fascinating kimono or something (cultural relevance, yeah!) at an enviably smooth and even pace.
However, no stylistic achievement could stand up to the raw power of the four principal actors, who give their all to their distinctive and elegantly crafted parts. Emoto Akira and Kiki Kirin, both distinguished elders of the Japanese film business, are memorable as (respectively) Yoshimo's father and Yuichi's grandmother, both of whom are struggling with loss and a sense of failure; Emoto brings an impetuous rage tempered by fatalism to his part, whilst Kiki's performance is a masterclass in the gradual erosion of optimism and faith. Tsumabuki Satoshi makes much of few words as Yuichi, the quiet labourer whose sullen façade conceals extraordinary depths of passion and rage, but the ultimate plaudits must attach to Fukatsu Eri for her unforgettable performance as Mitsuyo. Driven by a potent mix of Stockholm syndrome, naïve affection and unexpected passion, Mitsuyo comes closer than anyone to being Yuichi's salvation; Fukatsu's interpretation of her delicate, understated character is perfect.
Whilst some of the audio-visual devices used could have been developed a little further – the abrupt periods of total silence, devoid even of diegetic background noise, were memorable but too few to be truly effective – Villain's construction is essentially first class and lends the film a fluidity which belies its 139min running time. Oddly, this matches (to the minute) the length of this week's other pre-released foreign language romance, The Princess of Montpensier; but whilst I dozed and checked my watch throughout the latter carcrash, Villain held me totally, unashamedly rapt until the credits rolled, by which time I was crying like a child. I can envisage few higher compliments.
About The Author