A Matter of Life and Death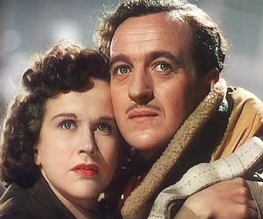 Pilot Peter Carter (Niven) is in a spot of bother. His parachute is useless, those of his crew who haven't escaped are dead, and the plane is failing. But it's not all bad – regardless of the flames surrounding him, his moustache remains intact. Plus, he manages to find a working telephone (this is before the days of the mobile) and gets through to June (Hunter), an American wireless operator. They chat for a while, get to know each other vocally (not like that, you saucy scoundrel – although what would you do with your last ever phone call?) before Peter leaps out of the burning plane. But, rather then meeting a terrible end, Peter lives. Hurrah! But, because of a balls up in heaven, the celestial beings upstairs will NOT LET IT LIE and send the camp and heavily made up, Conductor 71 (Goring), to BRING HIM BACK!

With the heavenly hosts after him and Peter still being alive and all, there's bound to be a bit of tension. Plus, there's the added problem that Peter is now in love, having bumped into the lovely June in the romantic setting of the beach, with a a naked, pan-pipe playing boy seranading goats nearby.
A Matter of Life and Death is quite simply, great. There's a reason Total Film voted it the second greatest British film in 2004. Whilst being a fantasy film, the directors keep a thread of reality running through, weaving together the "real world" and the "other world" on a beautiful, metaphorical loom. Peter's visions could be real to him, or they could be the results of post traumatic stress. Whilst it appears that detailed medical research has been carried out to enforce the prior, there is nothing to stop us suspending our disbelief and embracing the "other world" in all it's monochrome splendor.
Whilst Peter is never visited by a threatening demon-type angel (do they even exist up there?), there is a sense of impending doom following his every move and because of his oh-so-English charisma that makes him the ideal man to take home to meet your mother, we care about what happens to him. Plus, we wouldn't want to break up the happy couple, even if they have only been together a few days. So when Peter's body is in the operating theatre and his soul is standing trial, we can only hope for the best. DON'T DIE PETER!
An enchanting film, A Matter of Life and Death is a treat for all. Whilst the special effects may not rival Avatar, they fit in nicely with the 1940s cinematic style. Plus, look out for the "Stairway to Heaven" in the form of a giant escalator; it's amazing! Not only is A Matter of Life and Death enjoyable to watch, it was made with the intention to improve relations between the Americans in the UK and the British public. And there are valuable messages to take on board. Firstly, that love conquers all. And secondly, even angels make mistakes.
About The Author