Easy Virtue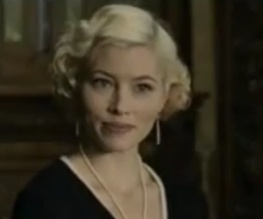 Hands up who thinks 'pleasant, subtle cinematic romp through the English countryside' and 'Jessica Biel' go together. Anyone? Didn't think so. But that's exactly the premise of this 1920s-set comedy, which pits a brash American adventuress against a tightly-wound upper middle class British family when her new husband brings her home to meet the parents. We weren't so sure whether Biel, whose biggest triumphs to date have been starring in one of the most irritating TV shows of all time and being Justin Timberlake's girlfriend, could pull off the title role. But frankly, we got to Blockbuster a little late on a Thursday night and all the better movies had been taken, so there wasn't much choice but to cross our fingers.
Luckily, our prayers were answered. This is one of the few cases of a seemingly bizarre casting decision working out well – Biel shines with the requisite glamour, charisma and charm required of her role. Her free-spirited bon vivant contrasts perfectly with Kristin Scott Thomas's prickly, uptight matriarch – rather expected, of course, as Scott Thomas plays prickly and uptight like no-one else. The always likeable Colin Firth is also strong as her disillusioned war veteran husband, yearning to escape the stuffy confines of the family's decaying Home Counties manor. Relative unknowns Kimberley Nixon and Katherine Parkinson are amusing as the couple's two uppity daughters, calling to mind Pride and Prejudice's Bingley sisters. Biel's love interest (Ben Barnes) is the only one that's a little nothing-y, but he's more than made up for by the rest of the cast.
We found ourselves enjoying this little gem of a comedy much more than expected. Great scenery, engaging characters and a cute twist at the end – you can't ask for much more than that for a rainy weeknight's entertainment.
Special Features
Widescreen Option
Deleted Scenes
Blooper Reel
Commentary
About The Author