Public Enemies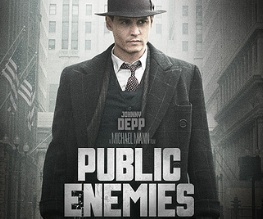 Johnny Depp, Christian Bale, Depression-era gangster plot – what's not to love about the premise of this film? It's one of those rarities that's got something for everyone – if only director Michael Mann (Ali, The Insider) could pull it off. Considering the director's mastery at recreating historical tales in minute, almost painstaking detail, the odds are pretty good.
As usual, the level of attention that has been paid to both the legend of 1930's bank robber John Dillinger, and Bryan Burrough's book on the Depression-era crimewave in the US on which the screenplay is largely based, is impressive. Using most of the real locations where Dillinger's exploits took place, and recreating costume and character minutae perfectly, Mann ensures we are thoroughly immersed in Dillinger's world. Where he fails is by not letting us into his headspace – the lack of back story hurtles us right into the bank robber's criminal present without actually stopping to examine his motivations for being the man he was.
Depp's performance, as usual, is hard to fault. He plays Dillinger all coldness, ruthlessness and restraint, and like Mann, has paid sharp attention to detail. He physically inhabits the character from mannerisms to accent, and is far from the typical gangster cliché. Bale, as the FBI agent on his trail, is Depp's equal in precision and cold realism. While both of these might be expert portrayals, they don't exactly loan the film a lot of heart, which it is already missing from Mann's matter-of-fact directing style.
Public Enemies is expertly put together, perfectly acted, and has a great supporting cast too, in the form of the endearing Marillon Cotillard as Dillinger's love interest, a credibly creepy Billy Crudup as J. Edgar Hoover and the always enjoyable Giovanni Ribisi as a fellow gangster. But in spite of this, at the end of the almost two and a half hour viewing time, we're still at a loss to understand what really made the man tick.
Special Features
Commentary with director Michael Mann
About The Author