Twilight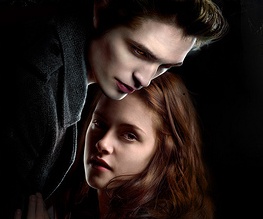 It's hard to talk objectively about Twilight without getting absorbed in the somewhat frightening teen-girl hype that has surrounded first the books, then the movies. Stephenie Meyer's four-book series about a young girl caught in a love triangle between a vampire and a werewolf (a problem all of us can certainly relate to on some level) raced up the bestseller lists faster than publishers could say 'Harry Potter'. And when young James-Dean-in-training Robert Pattinson was cast as smouldering vampire Edward in the film versions, along with sassy, dishevelled indie chick Kristen Stewart as Bella, those crazy teen hormones went racing off the charts on both sides. With the adaptation of the second book, New Moon, about to hit cinemas, late converts are no doubt racing to the DVD store to find out exactly what their female housemates keep squealing incoherently about whenever the trailer comes on TV.
Now, admittedly, being some of the aforementioned squealing Twilight fanatics, this review could be ever so slightly biased. Caveat now in place, we will continue. For its audience, Twilight is a damn compelling film. Edgy director Catherine Hardwicke, who was responsible for the brilliantly angsty Thirteen, recreates the bleak, rain-soaked world of Forks, Washington where the books are set with expertise. The lead cast smoulder suitably with unresolved hormonal longings, and the soundtrack is a who's who of indie darlings. The effects have their ups and downs, which will be a particular sticking point for fans of the book. The rip-roaring 'vampire baseball' scene translates perfectly from page to screen, set to Muse's cracking Supermassive Black Holes, whilst the scene where Edward shows Bella his appearance in the sunlight comes off just plain odd.
Overall, though, it's a perfectly teen-targeted romantic thriller that does the perfectly teen-targeted Meyer series proud. And for the slightly more mature audience who appreciate a perv at Pattinson, it's not so bad either. Whether the second movie adaptation – without Hardwicke at the helm and featuring Taylor Lautner's Jacob as lead man rather than Pattinson – will do the same, remains to be seen.
Special Features
Audio commentary
The Adventure Begins – the journey from page to screen
A conversation with Stephenie Meyer
The Comic-Con phenomenon
Deleted scenes (with director introduction)
Extended scenes (with director introduction)
Video: Muse performing 'Supermassive Black Holes'
Video: 'Decode' by Paramore
UK premiere footage
Theatrical trailer
Theatrical TV spots
Becoming Edward
Becoming Bella
Catherine Hardwicke's Vampire Kiss montage
Edward's piano concert
Music: the heartbeat of Twilight
Catherine Hardwicke's 'Bella's Lullaby Remix' music video
About The Author