Fish Tank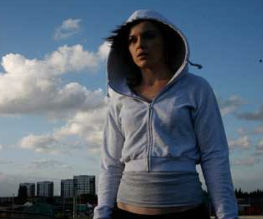 Broken Britain
An undeniably bleak snapshot of adolescence in 'Broken Britain', the critically acclaimed and BAFTA award-winning Fish Tank is a thoroughly captivating experience from start to finish. Centred upon the character of Mia Williams, Fish Tank offers much more than the usual gritty portrayal of teenage life in urban Britain.
Newcomer Katie Jarvis excels in the role of Mia, a discontented, high rise-dwelling, ASBO-baiting teenager with a penchant for super-strength lager and street dancing. With the early breaking of a rival girl's nose swiftly demonstrating Mia's lust for violence, the audience is instantly introduced to director Andrea Arnold's realistic depiction of the rigours of growing up in an Essex council estate.
Father Figure?
Seemingly neglected by her alcoholic mother, Mia's life appears to take a turn for the good when her mother brings home a new man, the affable Connor (Michael Fassbender). Appearing to provide a sense of stability and normality to the Williams' household, Connor's seemingly innocent paternal interest in the unruly 15-year-old swiftly descends into an unhealthy mutual sexual attraction. One night's tête-à-tête inevitably descends into foolish drunken frolics, with Connor's subsequent departure throwing both mother and daughter into heart-wrenching turmoil and disarray. Angered by his betrayal, Mia successfully traces Connor's location, and is devastated to find that he has a wife and child.
Disillusioned, Mia seeks solace in the in the arms of her friend Billy (Harry Treadaway). Having consoled her, Billy puts forth an enticing proposition and Mia is forced to re-evaluate her life.
Sink or Swim
Jarvis' stunning histrionics steal the show in Fish Tank. Cast after being spotted having an argument with her boyfriend at Tilbury Railway station, Jarvis manages to powerfully and passionately replicate the vast repertoire of emotions felt by confused, disaffected teenagers without indulging in crude cliché. Arnold's clever first-person use of the troubled teenager invites the audience to empathise with Mia with the greatest of ease. Similarly, Fassbender's portrayal of a confused, lustful man is excellent, and the unsettlingly awkward on-screen chemistry exhibited between Fassbender and Jarvis cunningly adds to the authenticity of the film's feel.
A surprise hit of 2010, Fish Tank emphatically proves that it is worth all the accolades that have been bestowed upon it. The film is dark and poignant, and Jarvis' acting debut is a cinematic treat. If you're seeking an intriguing and mesmerising British film, you could do a helluva lot worse than watching Fish Tank.
Check out the trailer for Fish Tank here
About The Author