ID4 back for more?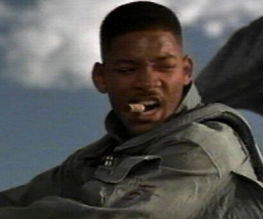 So it turns out that, contrary to common belief, the world wasn't entirely obliterated by alien attacks fourteen years ago. If the rumours emanating from Hollywood are believed to be true, it looks like Will Smith will be reprising the role of Captain Steven Hiller not once, but twice, as 20th Century Fox prepare to announce the sequels to 1996's Independence Day.
Following the runaway success of James Cameron's Avatar, Fox are allegedly eager to  splash the cash and resurrect director Roland Emmerich's visions. Emmerich had previously stated that he had already drafted the plot for both Independence Day 2 and Independence Day 3,  and now that financial backing has been made available it looks like his plans will come to fruition. It is thought that back-to-back filming of the sequels will commence once Smith has completed filming his next movie, which is likely to be either Men in Black 3 or The City Has Sailed.
I'm sure that like us, you'll all be eagerly anticipating the prospect of another couple of doses of fist-pumping, America-saves-the-world-from-destruction-yet-again action. Huzzah.
Ready to celebrate Independence Day again? Let us know below…
About The Author