For Colored Girls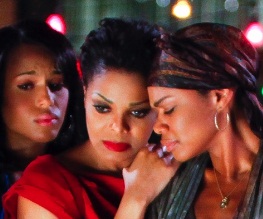 Let's face it, Tyler Perry doesn't really translate to British audiences. You could argue that it's because he understands his demographic so well he's speaking exclusively to them. On the other hand, it might be because us Brits don't go in for mawkish sentimentality or, for that matter, one-dimensional characters emoting endlessly about the unmitigated mess that is their lives. In adapting For Colored Girls Who Have Considered Suicide When the Rainbow Is Enuf Perry has taken a celebrated stage play featuring 20 poetic soliloquies and turned it into, well, a Tyler Perry movie.

Revolving around a group of women of colour living in the Big Apple, For Colored Girls is a master-class in how to transform a potentially important issue-led drama into a poorly crafted soap opera. It's almost impressive that Perry has managed to create something quite so melodramatic, when, by all accounts, the play was as subtle as it was powerful. Certainly there's no contesting the themes on display here: the women are subjected to a catalogue of all too credible abuses, each one of them forced to confront a personal tagedy of life-changing proportions. It's a shame, then, that their misfortune comes so thick and fast it's exhausting, almost as though each 'issue' is being checked off a list: Abortion? Check. Spousal abuse? Check. Life threatening disease? Check.
Even worse are the attempts to incorporate poetry into scenes that are, for the most part, already straining for credibility. Both the drama and visual style are drawn in such broad strokes that, despite using verse from the original text, this sudden left turn comes across as flat and pretentious, completely at odds with the rest of the film's uninspired naturalism. The one and only saving grace is the acting, in particular the central woman, who are at time visibly straining to make the material work. In the end, though, they're playing stereotypes, and the bloke directing them is about a subtle as a shovel to the face.
About The Author