Human Traffic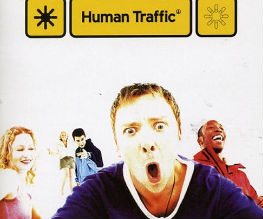 Considered by many to be the last great British film of the '90s, Human Traffic is an endearingly honest depiction of a weekend in the lives of five pill-popping twentysomethings. Credited with launching the careers of John Simm (Life on Mars) and much-maligned 'mockney' Danny Dyer, Human Traffic manages to capture the zeitgeist of the rave scene to perfection.
'Live for the Weekend'
Centred around 'Jip' (Simm) and his four closest friends, Human Traffic eschews the use of a discernible plot in favour of chronicling the events of the group's weekend excesses. Set in a vibrant and bustling Cardiff, the film sees the group escape the mundanity and stresses of their lives for 48 hours as they embark on a raucous weekend of cocaine, camaraderie and clubbing. Simm excels in the role of Jip, a going-nowhere-fast sales worker, still struggling to deal with the fact that his mum is a prostitute and, in his own words, dealing with a monumental case of 'Mr. Floppy'. Cripes.
Through the course of the film we witness Jip et al stumble from pub to club to after party (and back to the pub again), ingesting all manner of narcotics and indulging in a bit of heart-to-heart along the way.
'Ecstasy Gold'
A large chunk of the film's authenticity is indebted to the brilliant on-screen dynamic between the five main characters; like Trainspotting you can really feel the proximity of the characters' onscreen relationships. Human Traffic helps us to reinforce the message that, even though we've had a shit week or things at work aren't going well, at least we can look forward to getting wasted with our mates at the weekend.
Human Traffic is a veritable Aladdin's cave of memorable quotes ("I'm making love to the music man. And believe me, I can go all night."), undoubtedly attributable to the chemically-altered brand of philosophising that is so prevalent in the film. Drugs aficionados will also hail the cameo of noted trafficker Howard Marks, who narrates the now infamous 'spliff politics' scene.
Escape From Reality
Detractors will argue that this film does nothing more than glorify drug use and its stereotypes.  However, this view fails to take account of the genuine warmth of the characters' friendships and how Human Traffic effortlessly encapsulates the euphoria of weekend escapism. As a culturally accurate slice of Britain in the '90s, I challenge you to find a better film than Human Traffic. Now guys, what are we up to this weekend?
Check out the trailer for Human Traffic here.
Special Features
The making of Human Traffic
Deleted scenes
Pubroom Paranoia – a short feature by the director
Boom Boom – a short feature by the producer
Human Traffic pop promo
Trailer
About The Author