Marley and Me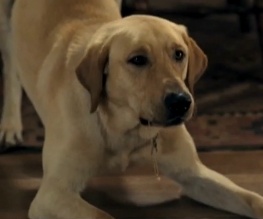 A dog is a man's best friend. Where Marley is concerned however, a dog can also be a man's worst enemy! In this pet-themed sob story about a family and their badly-behaved dog, we're subjected to yet another stale and humorless version of every other character Jennifer Aniston has ever played – this time alongside Owen Wilson. Newspaper writers Jenny (Aniston) and John Grogan (Wilson) are a newlywed couple who want everything – the career, the cars, the house in the country and children too. Before the latter, the couple adopt a Labrador retriever and end up with more than just a house pet, but also a destructive machine.
Marley trashes anything and everything in sight and gets up to more mischief than good. When the couple start to plan a family it seems that Marley has taken it upon himself to become even more reckless than ever. Fortunately as his antics become more unpredictable, this generates some very entertaining material for John's newspaper column. As time passes and the family grows, the dog becomes sick and with a sad twist at the end, Marley's important role within the family is manifested.
Based on John Grogan's autobiographical novel also entitled Marley and Me, the film is something that 'pet people' will instantly connect with. The on-screen coupling of Aniston and Wilson is occasionally funny but mostly odd. After playing Rachel in Friends for ten consecutive years it seems is little much else Aniston can possibly do. Luckily for her, all the roles she tends to play are very Rachel-esque. It's just a shame that this highlights her minimal versatility as an actress. Despite the expected lack of energy displayed by Aniston, Wilson is surprisingly good playing the working father and husband role. However it is the protagonist of the film that adults and children will love the most. Dog lover or not, by the end of the film everyone is sure to fall in love with Marley.
Special Features:
Special 2 Disc 'Bad-Boy' Edition
Deleted Scenes
About The Author