Nurse Jackie Season 2.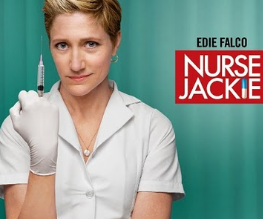 Remember when Quincy MD would get impassioned, solve the case, then retire to his favourite restaurant to laugh his way through the closing credits? Those were the days. Now, we live in more sophisticated times and consequently we demand that our medical practitioners (and, for that matter, our coppers, lawyers, even criminals) come in altogether more fallible guises. More Gregory House than Dr Kildare.
And so to Season 2 of TV's newest drug-addled care-provider, Nurse Jackie. Working in a busy New York hospital, Jackie (Edie Falco) is hoovering up pain meds in an attempt to stay sane amid the chaos of the ER, all the while juggling a hectic family life and an affair with the hospital's pharmacist, Eddie (Paul Schulze). Grey's Anatomy this ain't. What's crucial, however, is that far from of being a demented, drug-seeking nymphomaniac, Jackie is trying to numb the pain of being surrounded by so much pain. She's melancholy, isolated and wondering what her life is all about. See, she's just like you or me.
The dramatic thrust of the show is derived from wondering when Jackie is going to be busted, either for stealing prescription pills or for sleeping with Eddie. It's an effective way of building tension, albeit a bit of a stretch over twelve episodes (twenty-four if you count Season 1). Thankfully, the supporting cast provide genuine comic relief, particularly Merritt Wever as the new girl Zoey, hilariously growing in confidence as she imitates Jackie, and Peter Facinelli as the cocky young doctor Coop. Recently of Twilight fame (as R-Patz's dad and another, much more sombre doctor) Facinelli is a stand-out here. Like a comedy Tom Cruise (imagine that) he's hugely winning, over-confident, yet strangely geeky, twittering his 'followers' during hospital hours.
But, make no mistake, this is the Edie Falco show. You can almost hear the sound of the execs pitching her Nurse Jackie after the final season of Sopranos: she's complicated, she's damaged, but, damn it, she's the best. And, thanks to Falco, all the above is true. We knew from her star-making turn as Carmella Soprano that Falco is an actor of terrific range, and once again the emotional life of the character is right there in her face. Though she's ably supported from all sides, she's the beating heart of this excellent comedy/drama.
About The Author