Sea Wolf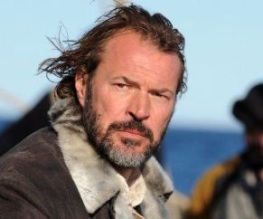 Sea Wolf Stars Stephen Campbell Moore as Humphrey Van Weyden; a gentleman, literary critic and general dandy who is unfortunately knocked overboard a passenger vessel and into the Pacific Ocean. 'Humph', as he becomes known, is rescued by The Ghost, a passing seal-hunting vessel bound for the coast of Japan and captained by the tyrannical and apparently amoral Wolf Larsen (Sebastian Koch). Less a wolf than a bear, Captain Larsen is a seafaring man of tremendous strength – a practical sailor with no time whatsoever for foppish, head-in-the-clouds intellectuals like Humph. Ignoring Humph's protestations ("I use these hands for writing!") Captain Larsen enlists him as The Ghost's new deck hand and forces him into various menial tasks much to the delight of the crew. The crew themselves, however, are not safe from the captain's cruel bouts of rage, and as the story develops it becomes clear that of The Ghost's mutinous crew the principled Humph is probably the only one Captain Larsen can truly trust.
Elsewhere on the high seas Wolf's brother, the appropriately named Death (Tim Roth), steers a seal-hunting steamer, The Macedonia, towards the same coastal waters of Japan. Aboard very different ships but both with a seal-hunting quota to fill the brothers Larsen are destined to meet again, but their unhappy family history guarantees this reunion won't be a happy one.
The main focus of this 3 hour epic is Wolf, Humph and their complicated, nascent relationship. Fans of Roth, therefore, might be disappointed with his lack of screen time, as here he is very much a periphery character. However this is probably just as well as Roth can't seem to settle on a single accent, sounding at different times Australian, British, German and Scandinavian. Perhaps this is the reality for a seafaring man, but given that his brother has a definitely northern European accent it's a little distracting and leaves a nagging feeling that as brilliant as Roth is otherwise, here he has been miscast. There's also a feeling that certain elements of London's novel, particularly towards the end as Wolf's health begins to decline, are a little rushed along – hinting that perhaps Sea Wolf might have been better realised as an episodic, box-set drama, rather than what is essentially a feature length film arbitrarily divided into two parts.
These represent the only minor qualms that can be had with Sea Wolf, which is otherwise an enjoyable and thrilling drama. The supporting cast – particularly the crew of the dysfunctional Ghost, and most notably the wily 'Cooky' – are brilliant and instrumental in realising the complex, political dynamic of a mutinous ship. Stealing the show, however, are Sebastian Koch and Stephen Campbell Moore whose scenes together engender this oppressive tension – their philosophical discussions also adding an interesting subtext for the disasterous series of events set to befall the ill-fated Ghost.
Sadly there are no DVD extras to speak of, but Sea Wolf worth a watch for fans of Koch, the maritime genre or, more broadly speaking, anyone after a thrilling and tense drama.
About The Author