Benedict Cumberbatch to join Hobbit cast?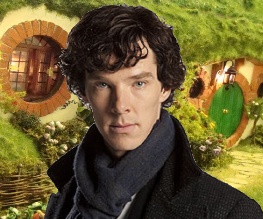 You can consider Best For Film's day made – at last night's BAFTA ceremony, Martin Freeman let slip that his Sherlock co-star Benedict Cumberbatch is apparently joining him for the trip from Baker Street to Middle Earth. Huzzah!
Freeman, who is set to star as Bilbo in Peter Jackson's two-parter adaptation of The Hobbit, can be excused for getting a little flushed and overexcited – he picked up the Best Supporting Actor BAFTA for his role as Dr John Watson last night, whilst Sherlock itself won the coveted Best Drama Series trophy. However, Cumberbatch – who missed out on the Best Actor prize – remained much more tight-lipped, deflecting the inevitable questions about which role he is taking on.
We don't know about you, but we think the key character of Bard the Bowman has got 'Bandersnatch' written all over it – it's too obvious to write B.C. off as another elf, and Bard's grim and saturnine character would hardly be a stretch for him. Interestingly, Benedict the Bowman would have quite a decent lump of screen time with Stephen Fry, who will play the Master of Bard's hometown of Esgaroth. 21st Century Sherlock and 19th Century Mycroft? We can already hear the fanboys squealing…
About The Author