The Inbetweeners Series 1&2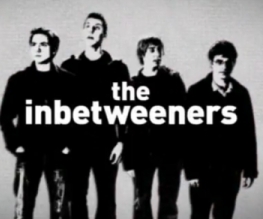 Say what you like about the state of British film at the moment, there's one thing that us plucky Brits do that makes the envy of the world, and that's our TV comedy. From Monty Python to The Office, our self-deprecating humour has been shipped out, remade, lauded and appropriated everywhere from the Americas to the Antipodes. And one of the standout comedies of the last few years, courtesy of those marvellous chaps at E4, was Damon Beesley and Iain Morris's sixth form anguish-a-thon The Inbetweeners.
Not cool enough to be cool kids, not geeky enough to be geeks, Will (Simon Bird), Simon (Joe Thomas), Jay (James Buckley) and Neil (Blake Harrison) are forever condemned to be Inbetweeners – perpetually reviled by both the hoi polloi and the dregs of school society. Their ham-fisted attempts to walk the tightrope of sixth form life – whether that be buying booze, attempting seduction or simply bunking off – backfire on the lads in typically unpredictable and disastrous ways.
But to brand The Inbetweeners simply as a laddish comedy, re-treading the clichéd world of sniggery sex jokes and infantile japes, would be a massive mistake. There's an edge here that raises the bar considerably, whether it's the razor-sharp writing, understated direction or uniformly brilliant performances. The series perfectly captures the angst, idioms and scrapes of the dimwit 17-year old male without being patronising or unrealistic, and has some of the best one-liners you're likely to hear this year. Particular highlights have to be "Bunk Off" and "Girlfriend" from series 1 (with the latter including the infamous "football friend!" line) and "Will's Birthday" and "The Duke of Edinburgh Awards" from series 2. But to be honest, there isn't really a bad episode. From start to finish, The Inbetweeners is yet another British comedy classic. the already commissioned third series can't come soon enough.
Oh, and guess what? The Americans are remaking it.
Special Features
Series One: Commentaries, Behind-the-scenes featurette, Cast video diaries, deleted scenes.
Series Two: Commentaires, Cast video diaries, Mr. Gilbert interview, Deleted scenes and outtakes.
About The Author