We Need To Talk About Kevin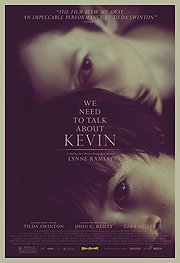 One of the reasons that I don't have kids is that I don't particularly get on with them on a personal level, though I'm sure I'd adapt as soon as they come blubbering, puking and screaming into my life. But what if something's wrong from the start; if you don't connect with your child to the point where you question their love for you and yours for them? What if, furthermore, you don't know what the source of the problem is, resulting in you shifting endlessly between blaming yourself and believing that your child was actually born evil? It seems like an almost unfeasible concept, but a terrifying one none the less, and We Need To Talk About Kevin depicts this nightmare scenario in harrowing fashion.
The plot follows Eva Khatchadourian (Tilda Swinton), who is struggling to come to terms with a murderous rampage committed by her son. The entire film intercuts between Eva's present-day loneliness, sounds and blurry images surrounding the night of her son's crime, and her upbringing of her son, the titular Kevin (played by three different child actors, all with equal menace). The film's style, brilliantly executed by director Lynne Ramsay, throws us into right into the tormented mind of Eva, who, despite her external stoicism, seems doomed to forever obsess over just what the hell went wrong with her relationship with her deviant child.
To some extent, the lack of explanation for Kevin's behaviour is frustrating, as summed up by Kevin unhelpfully saying 'there is no point. That's the point.' Much more revealing, however, is the perpetual shock on Tilda Swinton's face throughout the film, which suggests a self-pity in Eva's character resulting from her very status of being a mother. Her performance doesn't so much evoke sympathy, as depict a woman who's not ready to make the great sacrifice that motherhood requires. Both before and after Kevin's rampage, Swinton infuses her character with a cold sense of superiority. Incapable of self-reflection, Eva never develops the motherly instinct to blame herself for Kevin's misbehaviour, seemingly settling in her own mind early on that her son is the devil incarnate. Giving up on forming any kind of relationship with Kevin, Eva decides to have another child against her husband's will, played by a painfully cute Ashley Gerasimovich; a brash move that simply places another completely innocent person at Kevin's mercy.
Right from giving birth to Kevin, Eva cuts an isolated figure as her well-meaning but oafish husband Franklin (John C. Reilly) cradles Kevin. This sets the stage for the rest of the film, in which Eva's life is subsumed into the child while Franklin becomes the archetypal 'cool dad' who plays with his son and buys him a top-of-the-range bow and arrow (the perfect accompaniment to a high-school killing spree, it would seem). Kevin's malicious intelligence is evident from early on. Whether it's him not passing his ball back to his mother as a toddler, cutting off her 'birds-and-bees' talk by asking if she's talking about 'fucking' as a child, and a whole series of increasingly violent stunts as a teenager, Kevin's behaviour at times seems to go beyond the explicably psychopathic, and towards genuine evil.
Lynne Ramsay does a great job in forming a sense of creeping dread around a disaster that we're aware of from the start. The recurrence of the colour red, an unpleasant lingering of the picture and sound on Kevin eating, and the disruption of Eva's memories with the terrified screams of Kevin's victims all infuse the whole film with an unceasing discomfort. Perhaps creating such a sense of inevitability around a subject as controversial as murderous youths is a bit too deterministic, especially when the film is ambivalent about the explanation, but it certainly makes for powerful drama.
Kevin is a stark film that adeptly expresses a parent's worst fears through a combination of cold, intense performances and a heavily subjective visual style. Its absolute focus on how Eva perceives her relationship with her child means that we get little clarity as to why Kevin turned out the way he did, but giving an explanation would surely over-simplify the difficult subject matter. By not giving a judgement on the source of Kevin's problem, the film is frustrating, terrifying, and uncomfortably echoing of real-world events.
There is little to say in terms of DVD extras. Aside from the obligatory trailer, there's a 15-minute video featuring interviews with all the main players in the film, most of whom don't have anything particularly interesting to say about it. In short, just watch the film.
About The Author