Howl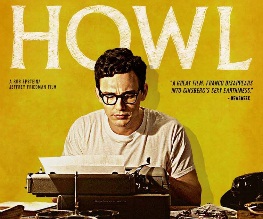 Publication by indie bookstore City Lights, in 1957, saw the poem and its publisher dragged like a scruffy-aired, draft-dodging hippie through the legal system for being obscene and un-artistic. Lines such as: "who howled on their knees in the subway and were dragged off the roof waving genitals and manuscripts" and "who let themselves be fucked in the ass by saintly motorcyclists, and screamed with joy", raised a few eyebrows. "This isn't art!" They declared. "It's nonsensical filth!"
The Beat generation is venerated in the US as the announcement of the counter-culture. But was there really a cohesive movement? The answer, according to Ginsberg himself, was no. He says it was 'just a bunch of writers trying to get published'. False modesty or not, the writings of Kerouac, Burroughs and Ginsberg rocked the nation in the Eisenhower-era of false promises and romanticism. The 1950s were anything but Happy Days.
There does appear to be a contemporary cinematic interest in the works of the Beat writers. Yony Leyser's excellent documentary on William S. Burroughs (William S. Burroughs: A Man Within) played at the 54th London Film Festival back in October, and there's an adaptation of On The Road currently in production starring 'Bright Young Things' Sam Riley, Kristin Stewart and Garret Hedlund.
Ginsberg was certainly less crazy than Burroughs – if we're to host an imaginary competition for Crazy Writers, but the man had his demons. Howl was dedicated to a mental patient the poet spent time with in Rockland hospital. "Carl Solomon! I'm with you in Rockland where you're madder than I am", he declares during the incendiary final part of Howl.
The film is littered with cameo appearances from Alessandro Nivola, the great Mary-Louise Parker, Treat Williams and Jeff Daniels. Clearly their involvement was in aid of attracting finance for the project but they are all excellent in their one minute walk-on parts as detractors or supporters of Ginsberg's work.
It is left to David Stathairn and Jon Hamm to verbally joust as prosecutor and defender over charges of obscenity in the court room re-enactment. One senses the mythologizing of Howl taking place with the film-makers creating a bigger deal out of the court case than it actually was.
The ubiquitous James Franco further cements his growing stature as the most versatile American actor with another wonderful performance. He really hits the cadence and speech pattern of Ginsberg. Remember how god awful Cate Blanchett's Katherine Hepburn impression was in The Aviator?
Although no masterpiece, unlike the source material, this rendering on film is a quiet and stirring account of one man's vision of America and where it was heading in the post-war era.
About The Author