Lovelace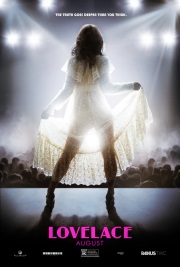 Since the apparent collapse of Inferno: A Linda Lovelace Story, the task of introducing a new audience to the world's most famously capacious throat and the woman who came with it has fallen entirely to Rob Epstein's Lovelace. Unfortunately, a gorgeous performance from Amanda Seyfried can't eclipse ninety minutes of hopeless bias and wilful whitewashing. Lovelace is an adequate film, but it is not by any means a biopic.
It's the early 1970s, and 21-year-old Linda Boreman (Seyfried) has moved to Florida with her domineering mother and doormat father after getting into trouble (that's 'into trouble' – you know, old school trouble. Pregnant trouble) back home in New York. Her baby safely disposed of, she's spending her time sneaking out to go rollerblading with her friend Patsy (Juno Temple) when she meets the man who will transform/ruin her life. Chuck Traynor (Peter Sarsgaard) is charming, louche and well supplied with grass – the perfect seventies gent, even if he does look a lot like Paul Rudd in Anchorman. Within months of meeting him, Linda has left home and married Chuck – and within months of becoming Mrs Traynor, Chuck has some new ideas for her altogether.
Blue movies are becoming big business in America, and Chuck moves on the outskirts of a circle of Mob-funded filmmakers looking for the next big thing. Desperate to make some money, he insists that Linda audition; but her girl-next-door look doesn't fit in among the hordes of busty, pneumatic blondes. That is, at least, until Chuck produces a home video of Linda – who had been resistant to oral sex until he kindly hypnotised her – sucking off Chuck in a way never before seen. "Can she do that to a big dick? No offence," asks director Gerard Damiano (Hank Azaria, because why not). A big dick in the shape of Harry Reems (Adam Brody) is duly produced, and the ensuing film breaks every record in the book. Deep Throat is global news – but Linda's offscreen life bears about the same relationship to her career as the real Linda's experiences did to this film.
Right, let's get this out the way – Amanda Seyfried and Peter Sarsgaard are both sensational actors, and they've never been better than in Lovelace. Seyfried balances her transition from ingénue to campaigner via free-lover, pornstar and battered woman with exquisite aplomb, as compelling when mangling her lines in Deep Throat as she is taking a polygraph about her ordeal years later. By turns charming, sinister and flat out mental, Sarsgaard is just as brilliant as Traynor, giving probably my favourite performance as a real-life maniac since Forest Whitaker played Idi Amin. These two, plus a reasonable script and a cracking 70s soundtrack, are what's good about this film.
What's not so great is the fact that this 'based on a true story' 'biopic' is almost completely fictional. GONE are Linda's 20 other porn films, her drug habit and that time she had sex with a dog. GONE is her complicated relationship with the feminist movement, who she embraced and then disowned. Sarah Jessica Parker's role as Gloria Steinem was cut altogether – good news for fans of acting, less so for fans of accuracy. What do we get instead? James Franco as Hugh Hefner, glistening with self-importance as usual (Franco, not Hefner) as he forces Linda to go down on him (Hefner, not Franco).
Depending on who you ask, Linda Boreman/Traynor/Lovelace/Marchiano was either a victim of circumstance who never recovered from her abuse or a pathological liar who urged Traynor on and then had a change of heart. Neither position is borne out by this haphazard series of vignettes, which are overwhelmingly shallow whether they're trying to be sexy or scary. Whichever interpretation of the woman is true, she's now ten years dead and still best known for her non-existent gag reflex – a sad state of affairs which this self-satisfied film shows no real interest in challenging. Lovelace is about an accurate a biopic as Abraham Lincoln: Vampire Hunter, but its determination to trade on its faux-realism while hammering home a pious and misplaced moral lesson demotes it from 'forgivably exploitative drama' to 'predictably patriarchal smear of semen across the face of biographical cinema'.
About The Author