Jig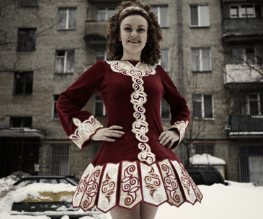 Like the proverbial buses, movies released on the back of a craze seem to appear all at once. 2010 saw the arrival On Tour and Burlesque, two films each made as a by-product to the ever rising power of the titillating performance art.
2011 has now given us an unusual selection of dance craze-come movie phenomena: The Irish Jig. This month saw the release of Lord of the Dance 3D, a concept so unabashedly shameless you are gob smacked at how it isn't in anyway a parody, and how Michael Flatley is still dancing – or, in fact, still generally alive.
On a less ridiculous note, this May sees the release of small independent documentary Jig. Director Sue Bourne, whose previous work includes Channel 4's documentary on the 9/11 'Falling Man', now takes her camera to the little known world of Irish Dancing Championships.
It is an exceptional world, one of perfection and fierce determination. The level of passion from these dancers matched only by the garishness of their costumes. The dresses so lavishly sequined, the bubble perms so laborious you wonder if you are watching 'My Big Fat Gypsy Dance Off'. Indeed, one interviewee remarked that she had mistook the event for a Shirley Temple convention.
We follow contestants not just from Ireland, but from USA to even Russia, as they travel to the UK to compete in becoming world champions of the Jig. A title they have dedicated their lives to, and a desperate emotion we connect with as each battle results in a climax of win or lose.
It's as fascinating as it is unexpectedly hilarious. To the mothers fussing over a pair of rhinestone knee highs, to the slave driving coach reminiscent of a Sue Sylvester, it's the humour and the sheer compassion of our subject matter – and not just Irish charm – that makes Jig a delight.
About The Author